Living Large! Drug Kingpin El Chapo Had 43 Vehicles & 16 Houses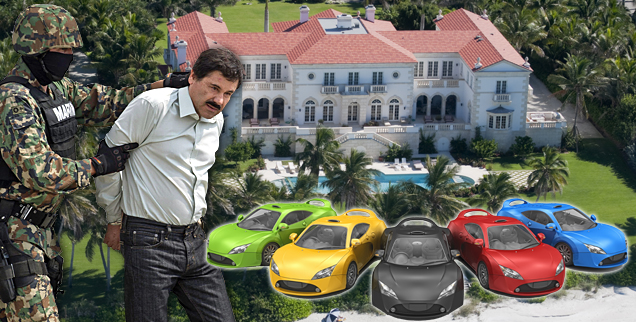 The large life of Mexican drug kingpin Joaquin "El Chapo" Guzman Loera has been revealed after his starting Friday night capture by authorities.
As Mexican police begin investigating El Chapo, or "Shorty," they've found out he owned 46 vehicles, 16 houses, and 4 ranches, the Forbes web site has reported.
What's more, he had apparently evaded arrest by living in seven of his houses which were connected by tunnels in the showers of the homes!
Article continues below advertisement
The Mexican Attorney General announced that authorities had captured Guzman as part of a joint Mexican and U.S. operation and no shots were fired as he was apprehended at a party in Mazatlan.
In addition to his properties, authorities seized a large cache of the Sinaloa cartel drug lord's weapons, including long arms, handguns and grenade and rocket launchers.
Billionaire Guzman, who is 56 and stands 5'6", has allegedly become the biggest drug trafficker of all time. His cartel is reportedly responsible for about 25 percent of all illegal drugs that come into the U.S. from Mexico. And now, the U.S. is seeking his extradition.