He Really Is A Superhero! Christian Bale Calls Young Batman Fan With Cancer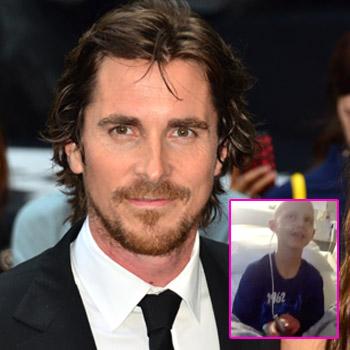 He may be known for his stellar acting – and for his hot temper – but Christian Bale is also a man with heart.
The Oscar winning actor – perhaps best known for his leading role in Christopher Nolan's three Dark Knight films, recently called an 8-year-old Batman fanatic named Zach, who's hospitalized with cancer.
In a video posted on YouTube Friday, Zach, who suffers from leukemia, told Bale how he pretends to be Batman and has even convinced his younger brother he actually is the Dark Knight.
Article continues below advertisement
"Oh really? He believes that you are," Bale said, laughing.
Zach also told Bale, who himself is a father, about his cardboard Batmobile and his Batman costume.
Bale – who has a history of reaching out to young cancer victims - told Zach he was from England, which he said had similar weather to Seattle, where Zach lives.
"I don't know if you can hear it in my voice, but I wasn't born in America," Bale said. "I was actually born in a country called England. A lot of people tell me that Seattle is a lot like England, because it's kind of rainy."
In addition to reaching out to cancer victims, Bale touched many people when he personally visited victims in the hospital last July after a mass shooting at a theater in Aurora, Colorado that happened during a midnight screening of the Dark Knight Rises.
youtube