Charlie Sheen: Lance Armstrong's A 'Douche,' Lindsay Lohan's 'Super-Talented'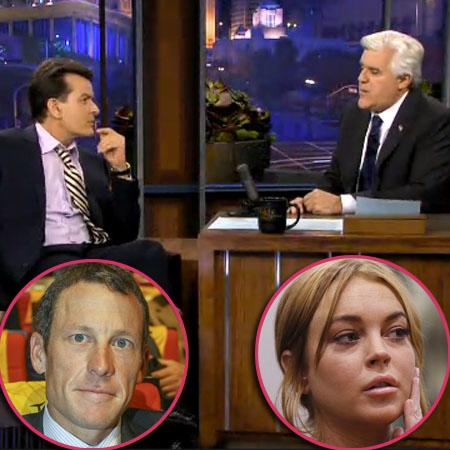 Charlie Sheen doesn't think much of Lance Armstrong.
Jay Leno asked Hollywood's foremost wild man his opinion on the fallen hero Wednesday night, and Charlie lived up to his brutally-honest reputation.
"He's kind of a douche," Sheen said, adding his opinion is based on a run-in with the cyclist eight years ago. "Wow, I didn't just say that, did I?"
The Anger Management star recalled he approached Armstrong as "he was talking to … I think he was talking to Sheryl Crow at the time.
Article continues below advertisement
"I said, 'Hi Mr. Armstrong, I'm Charlie Sheen. I just wanna say hello.' He looks at me, he's like, 'That's nice.'"
The former Two and a Half Men star cracked, "Sorry to bother you, Captain Bitchin' -- go get a paper route, dude!"
The 47-year-old actor - who earlier in the broadcast proclaimed equally-embattled athlete Barry Bonds as baseball's greatest-ever hitter - said Armstrong's arrogance about his drug use rubbed the public the wrong way, paving his downfall.
Article continues below advertisement
''They offered me a decent amount of cash to do Scary Five as a cameo. Then they said they're going to hire Lindsay. I thought, 'Fabulous,'" he said. ''They took half my money to give to her, and she didn't get it all. And when I found this out I said, 'You got shorted a hundred grand,' so I gave it to her."
The generous actor said he didn't know LiLo would eventually use the cash to pay a tax debt.
"If I'd have known that," he said, "I'd have given her half.''
Also in the appearance, Sheen, who's expecting his first grandchild, said he doesn't want to be called grandpa, but "OG," as in "Original granddad."
Watch the video on RadarOnline.com
Sheen stars on FX's Anger Management, airing Thursdays at 9:30/8:30c.