'RHOBH' Catfight! Insults Fly As Joyce Giraud Slams 'Stupid, Racist, Bully' Brandi Glanville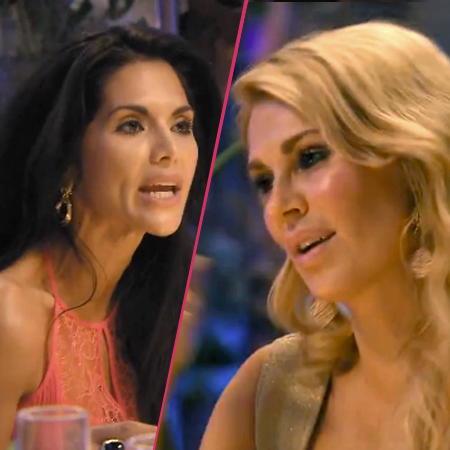 In yet another dinner party gone wrong, the feud between Brandi Glanville and Joyce Giraud raged on during Monday's episode of The Real Housewives of Beverly Hills.
Brandi and Joyce hoped to work through their issues, but it quickly went downhill. Joyce's husband Michael Ohoven told the Bravo cameras beforehand, "My wife had told me what happened in Palm Springs.
"Brandi simply crossed the line and it's not acceptable to me. This dinner is meant for all of us to come back together and sort out all the issues."
Article continues below advertisement
Once at dinner, Michael explained: "If someone has a problem with his wife, they have a problem with me."
Yolanda Foster came to Brandi's defense and piped in that sometimes "guys can't get involved."
"It's not going to happen with me," Michael retorted. That's when Brandi dropped an unexpected bombshell about she and Joyce's mutual friends.
"They don't speak highly of you," Brandi said.
"Yes they do," Joyce replied with Brandi sneering, "No, they don't."
"Well, they should tell me to my face because they don't speak highly of you," the beauty queen added.
Eventually, the pair got Lisa Vanderpump involved in their nasty feud. (Earlier this season, Lisa offended Joyce at Carlton Gebbia's lunch. After, Joyce claimed Brandi called her and said not-so-nice things about Lisa.)
"I gave you advice -- and you twisted it," Brandi said about the misunderstanding. "I said Lisa is sensitive and if you have a problem with her, you should speak to her."
Article continues below advertisement
"No. You said Lisa can give criticism, but she can't take it," Joyce said.
"You're stupid," Brandi yelled.
Although Michael tried to defend his wife, Joyce quickly fired insults at Eddie Cibrian's ex-wife.
"You're stupid. You're a racist and a bully," she declares.
"In Palm Springs, you told me I was a black person because I don't swim, when I'm just being honest and telling you I don't swim. That's disgusting to me!"
"I'm not a racist!" Brandi fired back. "Bring it b----!"
Joyce continued to express her disappointment in Brandi.
"You're a smart girl. Don't act like a bimbo," Joyce added.
Earlier in the episode, Brandi and Joyce appeared to be getting along at Kyle Richards' store.
The gals, who agreed to be models at Kyle's upcoming event, tried on clothes.
Joyce skipped around the store proclaiming that everything is too big on her, to which Kyle zinged her, "Would you like a cheeseburger with that dress?"
Article continues below advertisement
When Brandi said her dress was "too baggy," Kyle rolled her eyes.
"We're having trouble fitting into the zeros and double zeros…. The fact that I'm a size 4 in Beverly Hills makes me a plus-sized model," Kyle told the cameras.
Meanwhile, Carlton Gebbia took her mother-in-law lingerie shopping.
Her husband David also joins the women for the sexy outing to Hustler. When the store's clerk asked what David's mom is looking for, Carlton replied: "A thong. We're thinking sequins."
Carlton did a little shopping for herself, explaining: "I like to dress up for David — I have a little closet full of personalities… So while I am getting my burlesque room in order, I decided that I want to choose a few outfits to add to my vast collection."
Carlton played dress up, modeling a few skimpy outfits for David and his mother.
"That's a little revealing," David's mom said as Carlton shook her booty.
Article continues below advertisement
Speaking to the Bravo cameras, Carlton explained her relationship with her mother-in-law.
"I have a very silly relationship with my mother-in-law. We certainly have some funny, raunchy conversations," Carlton says.
"She's pulled babies out of my vagina -- it's not odd."
Watch the video on RadarOnline.com
Later, Yolanda discovered a big, fat zit on her face before her big anniversary dinner with her husband.
"David and I have been together seven years. He's seen the best and the worst of me, but really, on the day of our anniversary I wake up with this big monster. Not cute!" she told the cameras.
Later, Yolanda gave her hubby a scandalous book entitled "For Your Eyes Only."
The tome appeared to contain some racy, nude photos of his Dutch wife.
His reaction upon opening the present: "Oh my God."
The Real Housewives of Beverly Hills airs Monday nights at 8 p.m. ET on Bravo.