Brandi Glanville Claims Ex-Husband Eddie Cibrian Told Son He Doesn't Love Her Anymore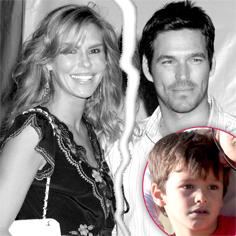 Brandi Glanville is shocked by how callous her ex-husband Eddie Cibrian is acting around their children.
In a new interview, the firebrand Real Housewives of Beverly Hills star told Life and Style that when their son Jake asked if she still loved his dad, she took the high road and said yes in an effort to keep the peace.
But when Jake mentioned the same conversation to dad Eddie, the actor was brutally honest.
Article continues below advertisement
MORE ON:
The Real Housewives of Beverly Hills
After surviving her painful 2010 divorce, the single mom is now living life to the fullest.
"I like being single and that there isn't a guy I'm pining for and sad over," she added. "I have a great time with my friends. There's no one breaking my heart right now I'm not in that place – I'm happily moving forward."