LeAnn Rimes Slammed For Bragging Her Stepson Was Singing 'Spitfire' -- Song Rumored To Be About Her Husband's Ex Brandi Glanville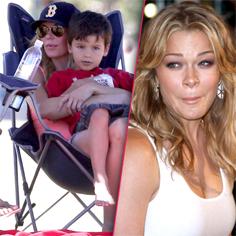 LeAnn Rimes might love her stepsons but she's under attack again for writing about her husband's children with his ex-wife Brandi Glanville.
The 31-year-old prolific Tweeter bragged about spending the evening with Eddie Cibrian while his son Jake sang her song Spitfire which ignited an instant war with her haters.
"Long day of wrk, lots of laughs w/ mr @EddieCibrian & listening to Jake sing Spitfire! #liferules," LeAnn bragged, and was swiftly slammed for mentioning Brandi's son.
Article continues below advertisement
"Just wait till your lil girls grow up to sleep with married men.. Lets see how cute that is? Sing those songs girls.." one critic wrote and another chimed in with "looks like leanns off her meds again crazy train rollin into town #buckleup."
When a fan leapt to her defense, writing: "oh for f*cks sake it isn't about sleeping with a married man," and LeAnn responds to her, saying: "oh gurl you broke out the dirty language lol."
Do you think "Spitfire" is an appropriate song for a little boy to sing? Tell us in comments.