April Fools! Radio DJ's F-Bomb Resignation Sends Bosses Into A Panic During Epic Prank – Watch!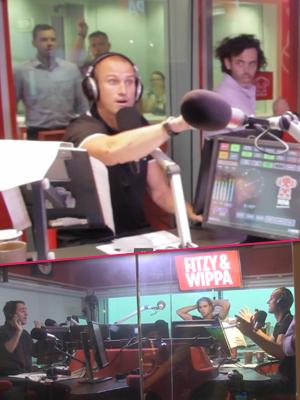 The best way to pull off an April Fools' Day prank is to get it in early, as Australian DJs Ryan "Fitzy" Fitzgerald and Michael "Wippa" Wipfli have just demonstrated.
The Nova FM morning radio duo pre-recorded a segment, in which Fitzy dramatically resigned from the show on-air, without notifying their bosses.
The bosses' reactions were captured via special cameras that had been set up around the station's headquarters and showed them running straight from their office to the studio to stop the segment from airing on the radio.
Article continues below advertisement
In the clip, Fitzy goes on an f-bomb filled rant about the show.
"Mate, I'm being serious here, and I get a little bit emotional when I'm talking about this," he began. "I've been having some real problems with work. I wanna do this live on air, and I think it's a perfect moment to tell you, and tell everyone what's going on. Mate, I, I've just had enough. I've honestly had enough. I'm not spending enough time with my family. Work has just been draining, and it's been too much, and I'm working in a place where I feel..."
"Mate, I'm serious, I'm f**king overworked!" he continued. "Wippa, listen to me, and I told you I was going to do this. Mate, you know this, we're working in a place where there's way too much politics. I've got two children that I never see, and I'm telling you right now that this is it."
The prank culminated in a fake fight between the friends, as their angry bosses rushed into the studio to break up the brawl. That's when the boys revealed their prank.
After, their bosses left the studio with one last word for the cameras: "Fired." It's unclear if they, too, were joking.
Watch the hilarious April Fools' Day prank below and tell us your best prank in the comments:
radar_embed service=brightcove src="http://c.brightcove.com/services/viewer/federated_f9?isVid=1&isUI=1" width="615" height="346" fv="videoId=3401114201001&linkBaseURL=http%3A%2F%2Fwww.novafm.com.au%2Fstation%2Fnational%2Fshow%2Ffitzy-and-wippa%2Fvideo%2Ffitzy-resigns-live-on-air&playerID=589273936001&playerKey=AQ~~,AAAAAfRUD4k~,eEBSAK1H9BhUeYkbmCmweEYCeus0EAAu&domain=embed&dynamicStreaming=true"