Accused L.A. Cop Killer Christopher Dorner Sent A Package To Anderson Cooper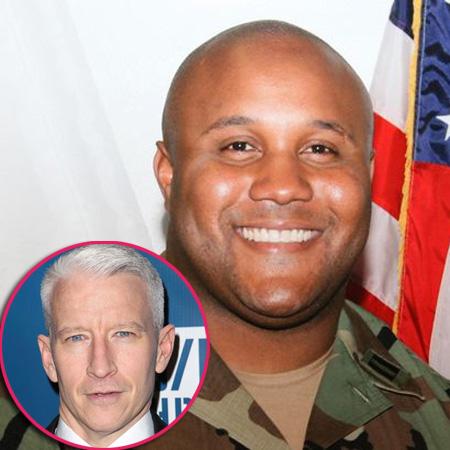 Christopher Dorner, the still-at-large ex-Los Angeles police officer suspected of killing three people, sent a package in the mail to Anderson Cooper, the CNN anchor confirmed Thursday.
Cooper said on his program, "I learned today that Dorner sent me a package to my office here at CNN in New York.
"The package arrived on February 1st. As you might imagine, I receive a lot of strange packages and letters and we have a system in place for dealing with them. I did not personally see this package or know about it until today.
Article continues below advertisement
He continued, "The package contained a DVD and a bullet-riddled keepsake coin … it's called the Challenge Coin. It's from … his former boss, LAPD Police Chief William Bratton … that coin had three bullet holes in the center, as you can see. And one partial hole on its edge, on the upper right-hand part of the -- of the coin.
Cooper said the package's contents also included a note that read "I never lied," and a DVD. Police are currently inspecting the package as they continue their search for Dorner, the disgruntled ex-cop still on the lam after officials said he killed a police officer and two civilians to avenge what he called the wrongful end of his law enforcement career via the machinations of a corrupt LAPD, according to a manifesto he posted on Facebook.
In addition to the three slayings, the 33-year-old, who once served as a reservist in the Navy, also shot at two other officers, hitting one, who remained in intensive care early Friday.
The manhunt for Dorner continues, with San Bernardino County Sheriff John McMahon admitting, "He could be anywhere at this point."
Watch the video on RadarOnline.com
San Bernardino County Sheriff's Department spokeswoman Cindy Bachman said, "We don't know what he's going to do. We know what he's capable of doing.
"And we need to find him."
Authorities are expected to hold a news conference at 9am PST Friday to release new details in their investigation.