Sorry, Ladies (And Guys) Anderson Cooper Won't Pose Nude For Playgirl!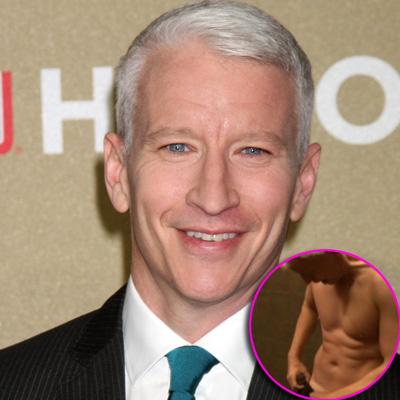 Sorry everyone, Anderson Cooper is not getting naked for Playgirl magazine anytime soon.
The Silver Fox is letting down millions of his fans on his daytime talk show Anderson Live where he admits that he's not going to bare it all for the mag.
"It's amazing how quickly false stories or rumors get started. Yesterday, I got inundated with calls from people about some story about me that was going around and I don't even know where it started but it was on some online publication that said I'd be approached by Playgirl and offered to pose nude for Playgirl magazine. Yeah, I know."
Article continues below advertisement
His guest host Cyndi Lauper tried to get him to book the shoot, but she just couldn't convince him.
Anderson joked about stripping down, a la Levi Johnston, saying: "We had the photo shoot yesterday. I felt really free and comfortable in front of the photographer. They just made me feel good. No, in truth no one wants to see my pale little chicken legs sprawled out on some shag carpet."
Cyndi echoed what most fans of Anderson's must have felt when they heard that he wasn't going in the buff for Playgirl.
"Wow, that's a bummer."
Anderson Live airs Wednesday, January 9, 2013 but alas, he won't be naked!