Gabby Petito's Cause Of Death Revealed As Manual Strangulation After Coroner's Autopsy Confirmed 22-Year-Old Vlogger Died By Homicide
The autopsy results for Gabby Petito are in.
According to Teton County Coroner Brent Blue, the slain 22-year-old vlogger from New York died by manual strangulation/throttling.
Blue had already determined that the manner of her death was homicide, which he announced on Sept. 21, two days after her remains were discovered in Wyoming's Grand Teton National Park, where she and her fugitive fiancé – 23-year-old Brian Laundrie – were known to have visited while on their weeks-long cross-country road trip from which she never returned.
Article continues below advertisement
Blue revealed the cause of Petito's death Tuesday afternoon in a virtual press conference, during which he also answered several questions about the case that's garnered nationwide attention.
Blue estimated that Petito died three to four weeks before her body was found, which would have been around the end of August/beginning of September. He said there would not be an exact date of death listed on her death certificate.
According to the FBI's search warrant for Laundrie, the "last communication anyone had" with Petito was Aug. 27 when her mother, Nichole Schmidt, received an "odd text" from her daughter that read, "Can you help Stan, I just keep getting his voicemails and missed calls."
Her remains are currently at a mortuary in Wyoming.
Article continues below advertisement
When Blue was asked during the briefing, "Are you sure it's Brian Laundrie who killed her?" he responded, "Who committed the homicide is up to law enforcement."
When he was asked if there was any bruising or markings found on Petito's body – including an injured neck – he said he couldn't go into details and that no other information was being released right now.
When asked why the autopsy results took so long, Blue said he was waiting for specialists to come in and also for the toxicology results to come back. He said everyone wanted to make sure they did a thorough job.
When asked if the toxicology results showed any drugs in Petito's system, Blue said that was not public knowledge and that he could not comment.
When asked if there was any impact on Petito's body from either weather or animals, he reiterated, "All I can comment is her body was outside for three to four weeks."
When asked if Petito was murdered at the location where her remains were found, the coroner once again explained he could not say and claimed that was a question for the FBI.
He confirmed Petito was not pregnant when she died.
Article continues below advertisement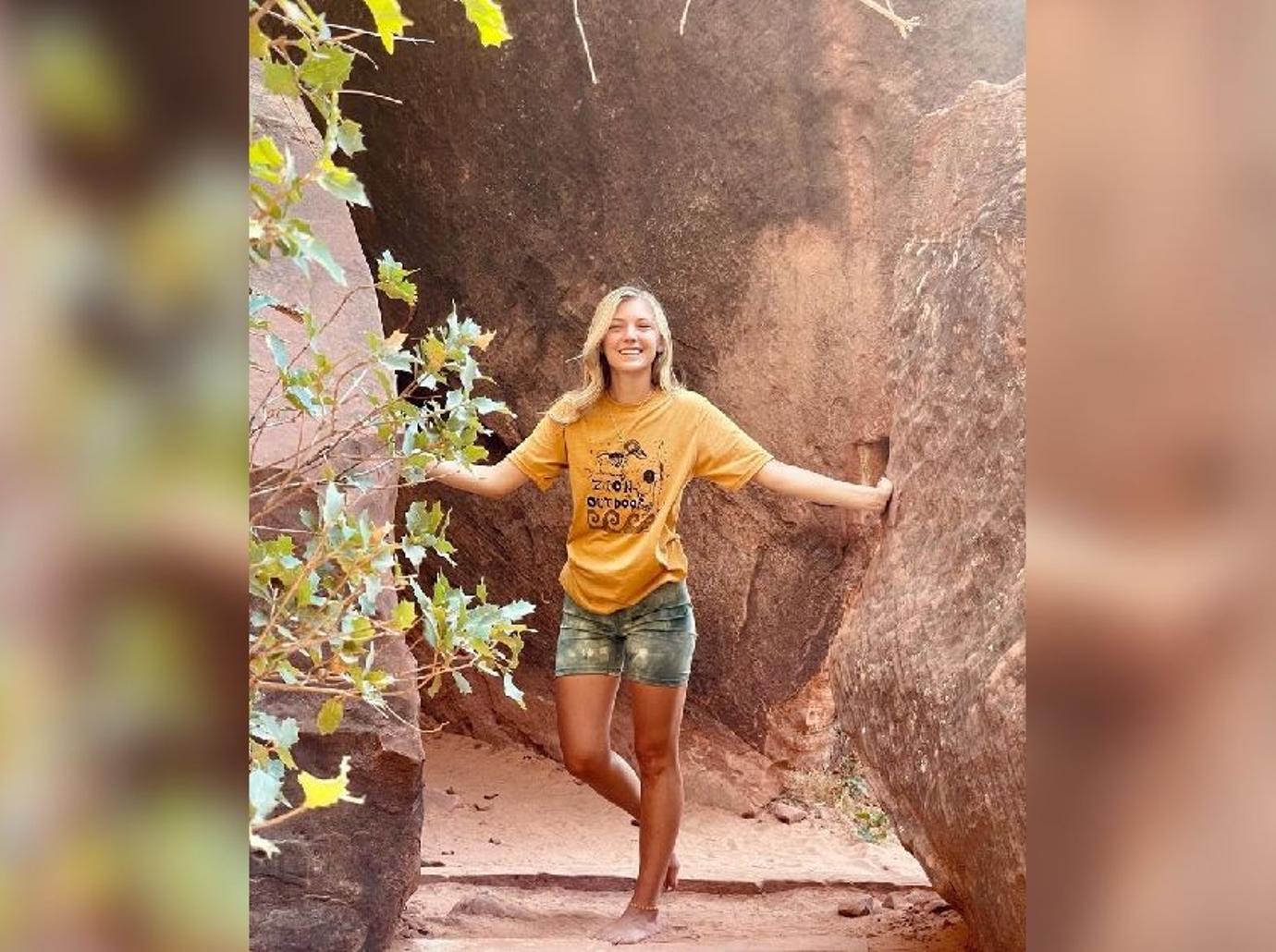 On Sept. 1, Brian returned to his parents' home in North Port, Florida, following his trip with Gabby, who he met in New York, where the two grew up. He was alone, but he had her white 2012 Ford Transit van.
Brian and Gabby had been living with his parents, Christopher and Roberta Laundrie, for two years.
Gabby was reported missing by her family 10 days later on Sept. 11, as both Brian and his parents refused to cooperate with authorities.
Worried about her whereabouts, Gabby's parents and stepparents said they desperately tried to get in contact with the Laundries but that they never heard back.
Article continues below advertisement
It's since been revealed that the Laundries went camping in Fort De Soto Park from Sept. 6 to 8, and it's being suggested that Christopher and Roberta left there alone.
Their home has since been raided by FBI agents, who declared the property an "active crime scene" while they confiscated "boxes and boxes" of evidence. They also seized Gabby's van and Brian's car.
Christopher and Roberta reported Brian missing on Sept. 17, initially claiming that the last time they saw him was on Sept. 14, the day he allegedly left for a solo hike in the Carlton Reserve. They have since changed that date to Sept. 13.
Gabby's body was found days later, and her death was ruled a homicide.
Hours before Blue announced the manner of her death, a Salt Lake City-based private investigator named Jason Jenson predicted that Petito had died by asphyxiation.
After reviewing the Aug.12 body-camera footage from the Utah police stop of the late vlogger and her fugitive fiancé, Jenson told Fox News he "wouldn't be surprised that it's manual strangulation," explaining that he had formed his hypothesis based in large part on Petito's interaction with police that day.
"I wouldn't be surprised if he's choked her before," Jenson said, suggesting that Laundrie was Petito's killer. "Any victim that's been choked before – their natural reaction is to lower their chin to their clavicle to prevent that hand from going around their throat."
Article continues below advertisement
Indeed, the footage showed a nervous and crying Gabby telling cops that Brian had grabbed her face during a previous argument. She even demonstrated how he did so using her own hands.
Petito sat hunched and spoke softly and apologetically, admitting to officers that she, too, had put her hands on Laundrie. He did not admit the same.
"Some days I have really bad OCD, and I was just cleaning the back of the van before, and I was apologizing to him, saying, 'I'm sorry I'm so mean,' because sometimes I have OCD, and sometimes I get really frustrated," Gabby explained through tears. "Not like mean towards him, I guess my vibe. I'm just in a bad mood."
She also had a gash on her cheek, which she said she had sustained during the earlier disagreement. Brian had scratches on his face, neck and arm.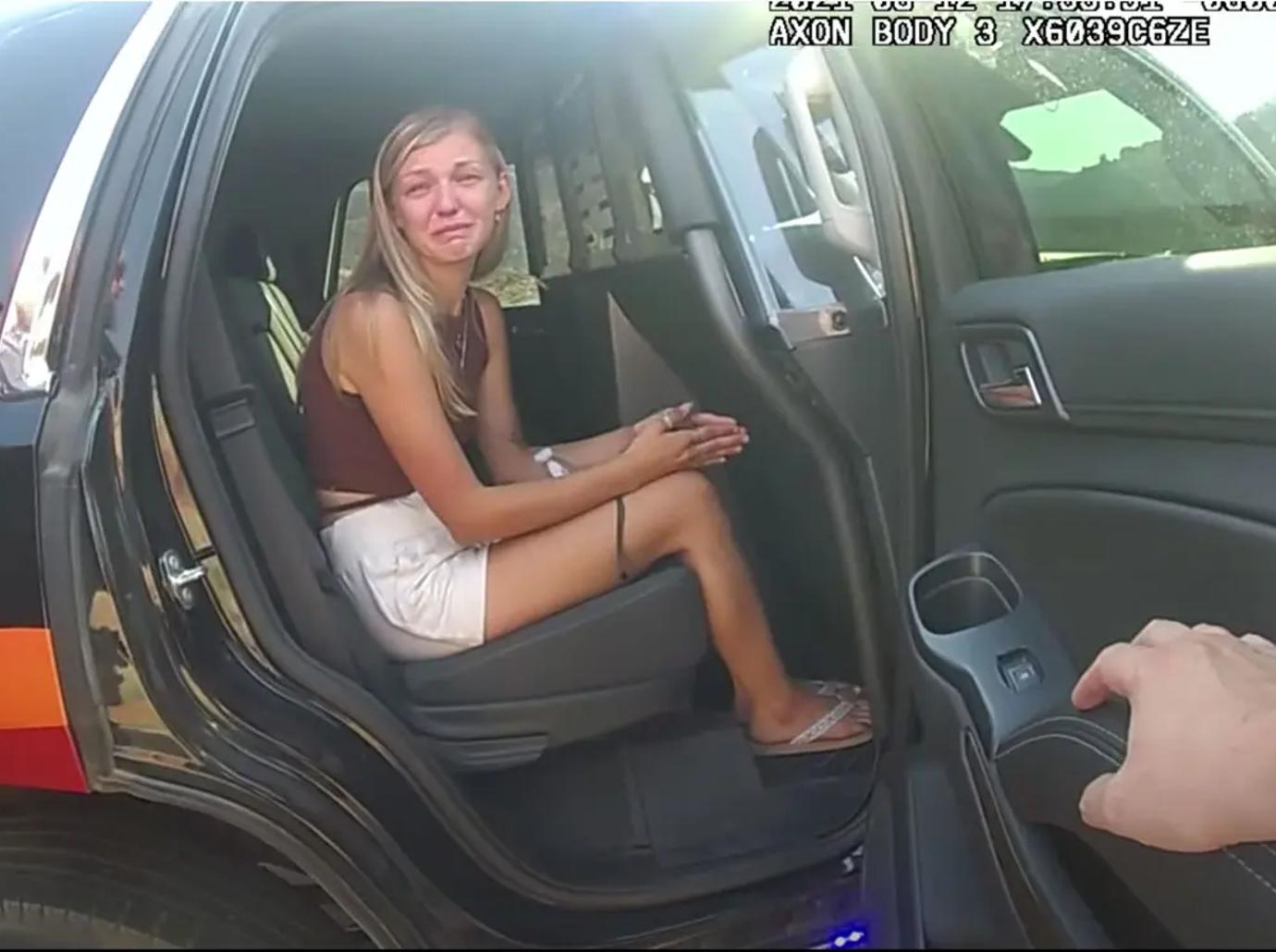 Article continues below advertisement
The Moab Police Department and those who pulled the pair over are now under investigation over the handling of the situation.
Prior to the stop, responding officers were informed by a dispatcher that Laundrie was allegedly seen "slapping" Petito during a "domestic" dispute, which was called in by a panicked eyewitness.
Yet after their hour-long chat, cops determined Gabby to be the aggressor. They chalked it up to a mental-health crisis and simply separated the couple for the night.
There is also concern over whether officers intentionally tried to cover up the second cop's body-camera footage of the stop, which showed Petito's visible injuries and a lot more of her distress.
Other eyewitnesses have also reported seeing Petito being "aggressive" and "violent" at different parts of the couple's trek.
It's not just the private investigator who believes Laundrie killed Petito by cutting off her air.
Dog the Bounty Hunter, who's been on the hunt for Laundrie since last month, recently hypothesized a scenario in which Brian called his parents after the fact and said, "'Mom, she was screaming, she was screaming and I put my hand over her mouth' – and I've heard and seen this in court – 'and I held my hand there, and she kept screaming and screaming, and then she shut up, and then I took my hand away and I was there and she wasn't breathing so I tried to use CPR, and Mom, Dad, I tried to do what I could do.'"
Gabby's best friend has previously said she knew the couple well and thought they were the definition of "very toxic." She said she believes that Laundrie is a "jealous" and "controlling" "sociopath" who displayed signs of "domestic abuse" throughout his relationship with Petito.
When she saw the Moab police body-camera footage, she said her stomach sank.
"I have seen [Gabby] like that, and it's always the same situation," said Rose Davis. "And she always defends him."