Teresa Giudice Ends Feud With Caroline Manzo Amid Split From Joe?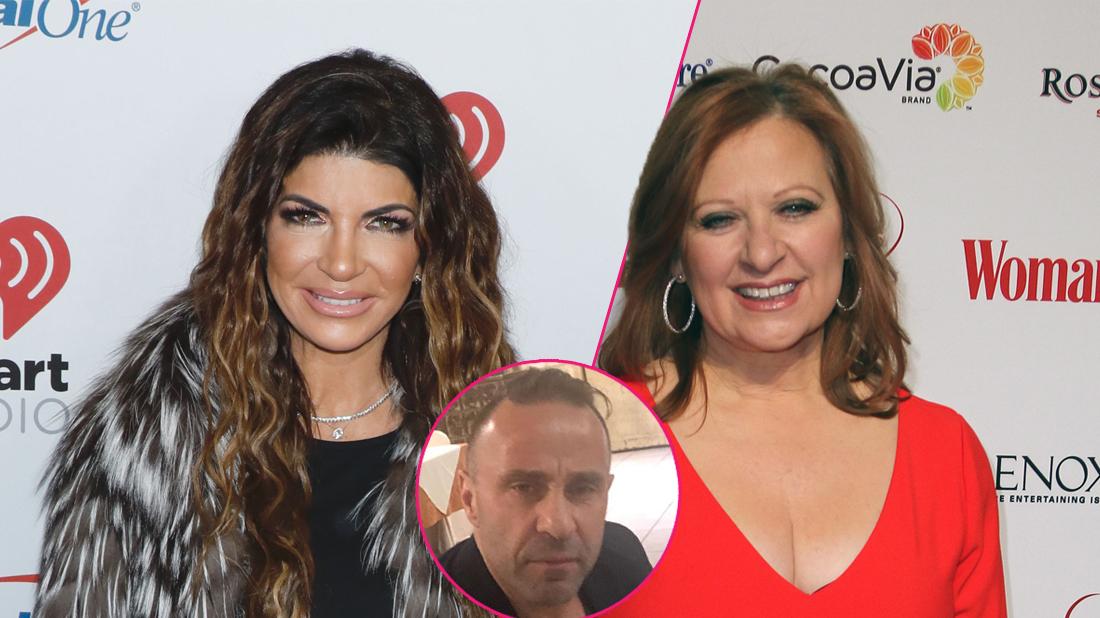 Is Teresa Giudice reaching out to frenemies for comfort after her split from husband Joe? Or does she need the return of an old co-star to juice TV ratings?
Teresa and her former The Real Housewives of New Jersey co-star Caroline Manzo are apparently doing a project together, PEOPLE has reported.
A fan Instagram account shared a clip of Teresa, 47, seated next to Caroline, 58, at a decorated red table. The two were chatting.
Article continues below advertisement
It's unclear what brought the ladies close, as Caroline hasn't appeared on RHONJ since season 5.
But as RadarOnline.com readers know, a source said earlier this year that Bravo bigwig Andy Cohen was begging Caroline to return to the reality TV show.
"Andy has called Caroline so many times trying to get her back on the show," an insider snitched to RadarOnline.com. "He's pushing hard to have her come back."
In October, during her explosive interview with former jailbird Joe, Teresa told Cohen that she blamed their time behind bars on Caroline.
The RHONJ star ripped Caroline, speculating that she was the "rat" that put her and her husband behind bars and ultimately ended with him moving to Italy amid a deportation case.
Caroline hit back, telling her son on his "Dear Albie" podcast about Teresa, "There comes a point in everyone's life when enough is enough. I am at that point with her because I have heard over the years that she has slandered me numerous times on her live shows, numerous times to people that just go up to her on the street, in the press, on reunions. This is not the first time she has made this claim. Those are big words.
Article continues below advertisement
"Once in a while you got to take the bully, pull them up by their shirt, pull them into your face and say this is the reality. This is life. I am going to clear things up for you. And that's what I'm doing," Caroline said.
Dissing Teresa even more, Caroline added, "What she says, thinks about me, means nothing….She is just so abrasive, and she has no moral compass. She has said things about me to people that are completely fabricated."
Reps for Bravo and Teresa's lawyer didn't comment to PEOPLE about the latest report about the two women meeting up.
But as RadarOnline.com has extensively reported, Teresa could need another friend, as she and Joe just separated after 20 years of marriage.
Joe is currently living in Italy, away from Teresa and their four daughters, while he waits for a judge to rule on his deportation case appeal.
"It's so obvious they're not together anymore," a source close to Teresa told RadarOnline.com exclusively. "She doesn't want to go to Italy. She doesn't want to be married to Joe. She likes her life without him."
Article continues below advertisement
The writing had been on the wall for months.
"Teresa and Joe are arguing a lot and won't go near each other," a source claimed to RadarOnline.com about their early November reunion in Italy. "All of the photos of them together seem forced."
Rumors of trouble heated up after Teresa said she was not sure if she and the kids would travel across the globe to visit their stranded husband and father for the holidays.
"I don't know yet," Teresa shrugged at iHeartRadio's Jingle Ball concert at Madison Square Garden on Friday, December 13. "We're still deciding. We have a lot going on."
After that, RadarOnline.com confirmed she and Joe had separated.
The disgraced RHONJ husband then took to Instagram to imply he was moving on, writing, "Every next level of your life will demand a different you."
Newly-slim Joe also posted a shirtless video to show he's single and ready to mingle.
Now will Caroline return to RHONJ to stir things up?
"Teresa doesn't want Caroline back, but she doesn't make the decisions on the show," a source told RadarOnline.com.