Miley Who? Liam Didn't Watch Ex-Wife's Breakup Song VMA Performance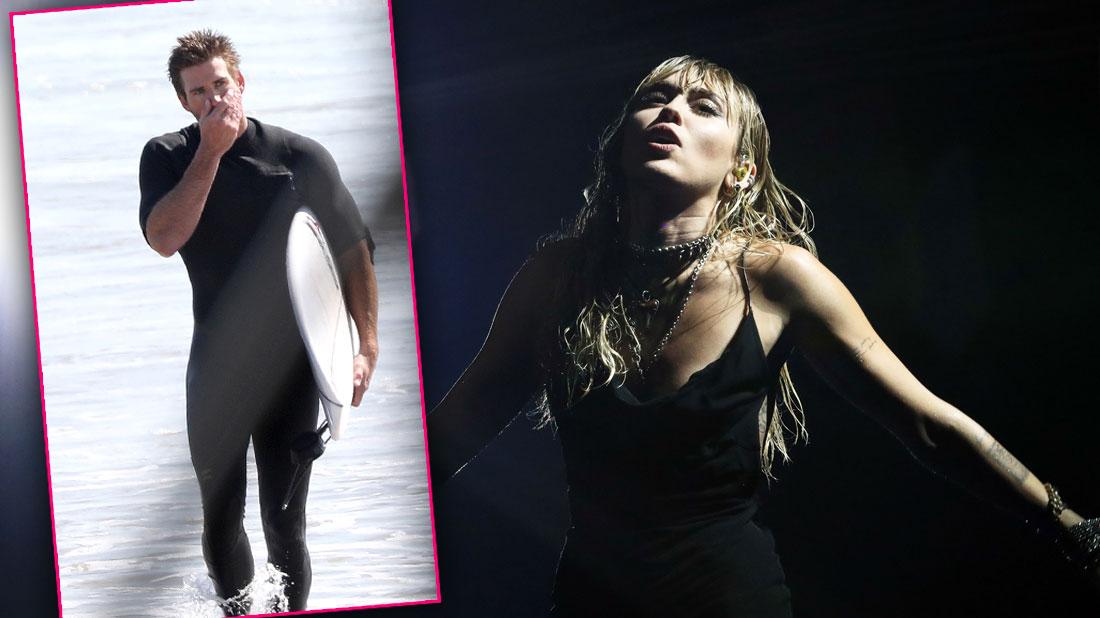 Miley Cyrus brought the house down when she presented an emotional performance of her new breakup song, "Slide Away," at the MTV VMAs on Monday, August 26. But RadarOnline.com has exclusively learned the subject of her song, ex-husband Liam Hemsworth, wasn't even watching.
"He didn't see it," a friend of the actor revealed. "It wasn't on his RadarOnline.com."
Instead, the surf-loving star was focusing on "hitting the waves," the friend said.
Article continues below advertisement
Indeed, Hemsworth, 29, has been living in Australia since the sudden breakup, spending time in Byron Bay at famous brother Chris' $4.3 million beach house while nursing a broken heart.
Meanwhile, Cyrus, 26, has been hot and heavy with new girlfriend Kaitlynn Carter.
As RadarOnline.com revealed, the two were spotted getting affectionate and putting their arms around each other backstage at the VMAs, mere moments before Cyrus took to the stage to perform her breakup hit. After the show, they held hands while partying with Cyrus' mom Tish.
Cyrus' new melody gives a myriad of references about her broken relationship with Hemsworth. In the tune, she talks about their teenage romance, and how she eventually outgrew it after loving him for ten years.
"Once upon a time it was made for us / Woke up one day, it had turned to dust / Baby, we were found, but now we're lost / So it's time to let it go," she sings.
The singer released the song just days after she and Hemsworth announced their split.
Article continues below advertisement
In a statement, Hemsworth wished Cyrus "nothing but health and happiness going forward," before citing "irreconcilable differences" in the official divorce filing.
However, RadarOnline.com exclusively reported the The Hunger Games star was "heartbroken" by his ex's embarrassing PDA.
"His family cannot believe she is flaunting this for the world to see," a source said. "They think she is a disgrace."
Now, weeks later, Hemsworth is focused on moving forward.
"It's not really his concern anymore," the friend told RadarOnline.com exclusively. "He's free."