Amber Portwood Quits Filming 'Teen Mom OG' After Suicidal Thoughts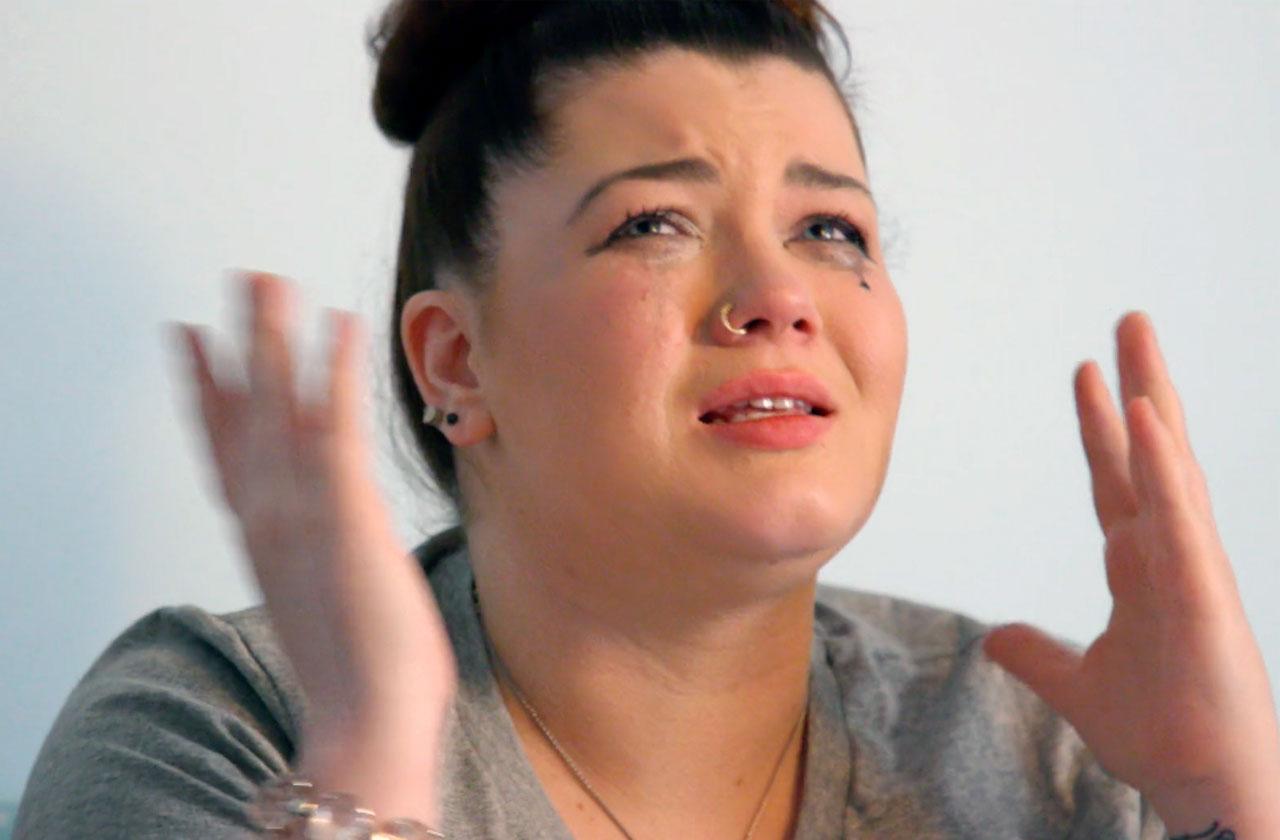 Amber Portwood is done with Teen Mom OG. On the season finale, Portwood quit filming after blaming the series for her depression and suicidal thoughts.
On the episode, Portwood explained to her cousin that she considered committing suicide.
"There was a night I was waiting for Andrew and James to go to bed so I could kill myself," she admitted. "And for some odd reason Andrew could feel it. He was like, I'm not going to bed.'"
Article continues below advertisement
She explained how it "doesn't feel good to be alive right now."
She admitted her depression stems from social media bullying regarding her parenting. As readers know, Portwood completed a rehab stint and served 17-months in prison on drug charges when her daughter Leah with ex Gary Shirley was young.
"People saying to me like why couldn't you do this for Leah?" she cried. "I was young and stupid. I don't want to feel like that for the rest of my life."
Co-star Catelynn Lowell, who has been to rehab three times for depression and anxiety, visited her to help.
"I'm at my end," she told her. "I'm at my lowest right now. I have no will. I'm not living for myself at the moment."
She then blamed the series for her depression.
"The person I am today is not being noticed as much as it should be," she explained. "This show has ruined my name. This show has not shown who I am as a person. They don't show the funny side of me. They show bad mom, they show all that s**t. They show the struggle, me crying… I'm f**king over it."
Article continues below advertisement
She then explained how the social media hate has been "escalating." Therefore, she refused to continue filming.
"I think I should separate myself from the show," she told her producers. "I don't feel like this is right for my life anymore. You want a certain story that I don't want to give you anymore. I feel like it's depressing to be on the show."
When they tried to get her to reconsider, she fired, "I don't care! How about that! I don't f**king care. This is my life that you guys plaster all over television. I'm not going to film right now. I need time to f**king think. If you guys need to do what you need to do on your end then do it. I'm done."
Also on the episode, Lowell and Tyler Baltierra have yet to start their trial separation. When Lowell learned it has been postponed by another week, she explained she is "frustrated" he is "stalling" their separation.
"I don't want to prolong it too much," she told him. "I want to get it going so I can move in with you guys and we can be a f**king family again. It's a lot of emotional stress. I'm also carrying a baby. Putting stress on this baby is not healthy."
Article continues below advertisement
He then fired back, "I'm demolishing the village we built. You're throwing all these little things at me about me doing it. I'm not allowed to do anything for myself."
When Lowell explained that she isn't saying he can't move out, he mentioned how supportive he was when she completed two back-to-back rehab stints.
"I make a decision to help myself or do anything for me the world flips out," he said, as she responded, "I don't like the feeling of my treatment being used against me."
He then screamed, "I'm going to leave!"
Bristol Palin sat down with her baby daddy Dakota Meyer to discuss how to co-parent better. Although she met with a PTSD expert, which Meyer suffers from, to avoid triggering him, the two still got into a huge fight!
When Palin asked the best way for her to communicate better with him, he responded, "The best way for you to communicate with me is to not talk about me. Everything I've done has been a response to you. I just want you to leave me alone. Go be happy."
Article continues below advertisement
She fired back, "I'm very happy! I'm calm and collected. I've never felt more at peace."
"I don't want to have a friendship with you," he said. "You're a co-parent. Write me if it has to do with the girls."
She then yelled, "Don't flatter yourself thinking I want to talk to you. We have to get along. The fact that you have this smirk on your face… That's why I couldn't stay in the marriage any longer, because of this!"
She continued, "I want a co-parent that doesn't talk to me this way. A co-parent that doesn't steal from me. You got major issues that have nothing to do with me. You've had these issues from before we were married and I think you need to work on yourself just like I am."
"There is one of us on this show who is being real and there is one who is acting," Meyer fired. "We could have a better relationship for our daughters when you stop being a compulsive liar."
Article continues below advertisement
Palin ended the conversation with "you're a piece of work" before storming off.
As for Maci Bookout, she learned Ryan Edwards is getting out of rehab after completing a 90-day program. Before meeting with him, she got dinner with his parents to discuss his progress.
"Ryan wants to sit down and talk to you," his mother Jen told Bookout. "He wants to work things out where ya'll can communicate and get along. He's very sorry about a lot of stuff. He wants the sober Ryan to feel like he matters."
Jen then explained how he blames her for "taking the lead" when it came to raising Bentley.
"He feels like he's an uncle and not a father," his dad Larry said.
Bookout then explained how he understands the bad decisions Edwards made was because of his drug addiction.
"I love you both and Ryan," she said. "That will never ever go away."
And finally, Cheyenne Floyd throws a party for her baby daddy Cory Wharton to celebrate the day he learned he is the father of their daughter Ryder.
Article continues below advertisement
During the celebration, Floyd gave an emotional speech.
"When I found out I was pregnant, I thought to myself this is the hardest thing in the world," she said. "And then going through labor, bringing her home, having to bring her back to the hospital and learning she has a genetic condition, this was the hardest thing. When Cory came and was visiting Ryder every day, you thought you were doing something for her, but you didn't know all the pain I carried for that time. You took away so much pain I had. You brought me out of one of the darkest places I've ever been in."
Although he told her while out to dinner that he wasn't ready for the relationship, she revealed to a friend that they had sex after the party.
"We properly celebrated one year of him being a dad and did the nasty," she said. "It wasn't drunk, sloppy sex. It's definitely different from before. I don't want it to turn into we're just having sex. It's like we're in a relationship, but we just don't want to admit it. I just don't know what to do now."
We pay for juicy info! Do you have a story for RadarOnline.com? Email us at tips@radaronline.com, or call us at 800-344-9598 any time, day or night.
For the latest Teen Mom news subscribe to our podcast 'Teen Mom Time' below!