Catelynn Suggests Couples Retreat After 'Frustrated' Tyler Fires: 'I Want Change!'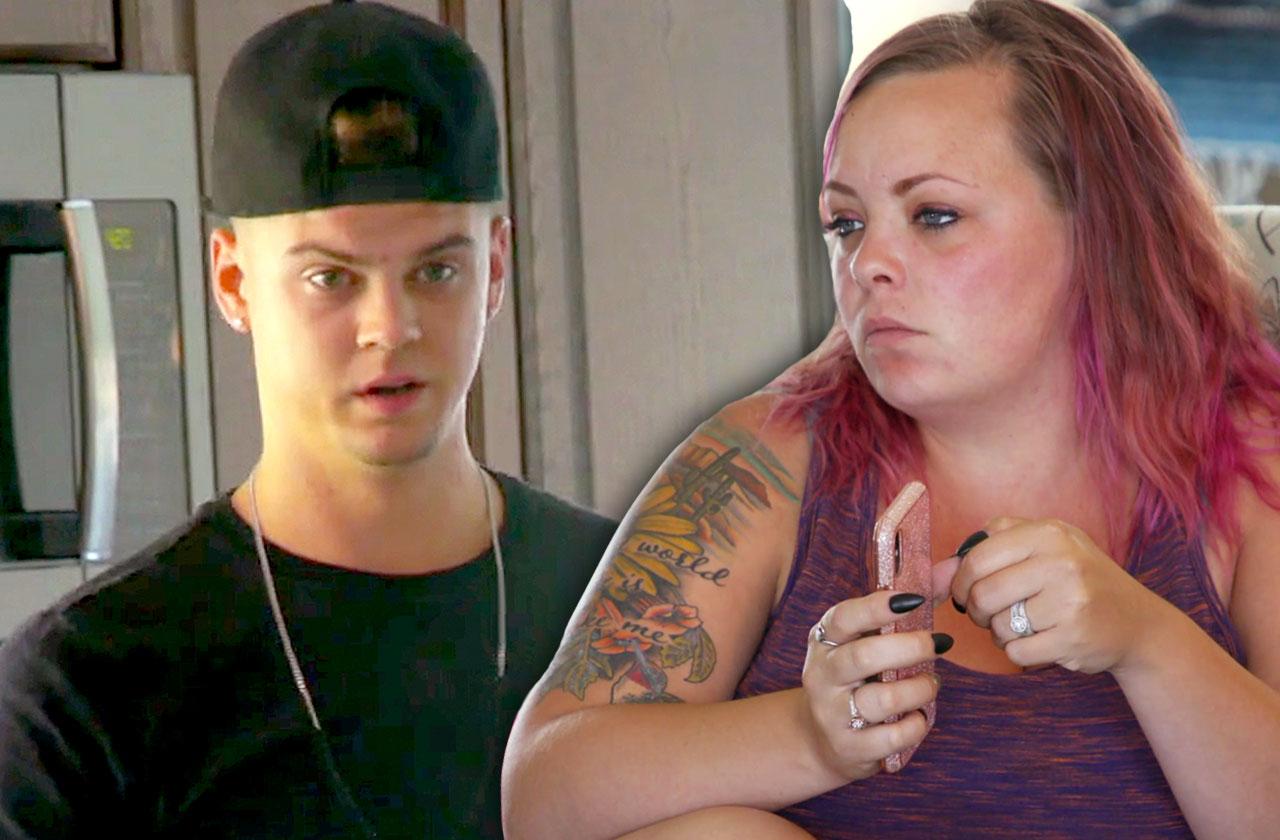 Catelynn Lowell and Tyler Baltierra's marriage has been on the rocks all season long. On this week's episode, the couple agreed to work on their marriage by going on a couples retreat. RadarOnline.com was the first to report on the weeklong counseling trip in July.
On the episode, Lowell has to go on a business trip. Baltierra encouraged her to fill out their counseling paper work because they have "a lot of things to work on" while she's away.
Article continues below advertisement
"Cate didn't take to counseling well. She wasn't digging it," Baltierra told his mom. "She's reluctant to do it, but she's not refusing to do it. I hope she does it while she's in New York."
Lowell explained how she filled out the questionnaire. She then told a producer of their issues, "He comes across sharp. Little things. I'm a feeler, I feel that intensity. He's pissed off, which makes me shut down."
When she told Baltierra that he seems "frustrated" later on in the episode, he responded, "I'm done with the talk. I want more of the walk. I want a change."
She replied, "A part of it is being scared to open up all those old wounds. It's hard when you have a lot of trauma to work through."
When she said something "little" shouldn't break them after everything they've been through, he said, "It's not little."
Article continues below advertisement
She then recommended couples counseling in Sedona, Arizona.
Bristol Palin has been battling her baby daddy Dakota Meyer all season long, but now she's at war with the father of her son Tripp, Levi Johnston!
She explained how she sent Johnston a contract for him to sign so Tripp's Dancing With Stars: Juniors compensation goes directly into an account for him.
"Levi refuses to sign saying he has zero interest in the money," she explained. "They're not going to pay Tripp in his trust account unless it says Levi has no interest in it. He has had this paper for two months now. We have been making amazing strides. It's frustrating to me because you don't ask about his school, are you concerned?"
When she confronted Johnston, he explained that he only had the entire contract for "four days."
"Don't play this out like something it's not," he said. "You sent me a piece of paper with no contract so I don't know what I'm signing. That's not how it works."
Later on in the episode, he agreed to sign the contact.
"I don't know what I'm doing wrong to have these terrible relationships with Dakota and Levi," Palin said. "If there is something I could do better, let me know. It's not fun fighting with Dakota and Levi."
Article continues below advertisement
Also on the episode, Maci Bookout revealed that her relationship with baby daddy Ryan Edwards' parents got better ever since they were open about his rehab stint for heroin.
But that changed when Bookout refused to let them take Bentley to Atlanta because he was visiting her husband Taylor McKinney's family in Texas.
"He's our son," she told McKinney. "We only get to raise him once. We only get to do things with him once. I want him to have as much time with us as possible. I get frustrated. It's annoying."
While in Texas, she complained about Edwards' absence as a father even before McKinney came into the picture.
"He's not seeing him from the bleachers," she said. "He doesn't show up. He was like that before Taylor. The mother f**ker never showed up. You have to put work in for someone to appreciate you. Most people can't deal with it the way Taylor deals with it."
Cheyenne Floyd got back together with her ex-boyfriend Zach on last week's episode, but there is already trouble in paradise.
Article continues below advertisement
Floyd explained how Zach was upset that she agreed to go to Michigan with her baby daddy Cory Wharton to visit his family with their daughter Ryder.
"Zach feels like in the ranking system it's Ryder, Corey and him," she explained to her family. "He feels like he should come before Cory. I don't see anyone ever understanding our dynamic. My focus is on Ryder and making sure she builds a good relationship with Cory."
While discussing the issue with Zach, he claimed Wharton is "more of a priority than him."
She responded, "My focus is ensuring that I have a good co-parenting relationship with Cory. I have to do what's best for Ryder."
When he said, "I would sacrifice everything for you. We don't see eye to eye," she responded, "That's fine."
And finally, Amber Portwood's baby daddy Andrew Glennon encourages her to enter a boxing match to help promote youth programs.
Article continues below advertisement
Although she was hesitant at first, she got in the ring.
"Meeting you and the people you surround yourself with uplifts me to know I can do more in life," she told Glennon. "I can do things like this and we can have a good life. I never thought I would meet a man so driven who wanted to make sure I was happy and wanted to take care of his family."
Teen Mom OG airs Mondays at 9/8c on MTV.
We pay for juicy info! Do you have a story for RadarOnline.com? Email us at tips@radaronline.com, or call us at (866) ON-RADAR (667-2327) any time, day or night.
For the latest Teen Mom news subscribe to our podcast 'Teen Mom Time' below!