Amber Slams New Co-Stars Bristol & Cheyenne: 'We Would Like F**king Respect!'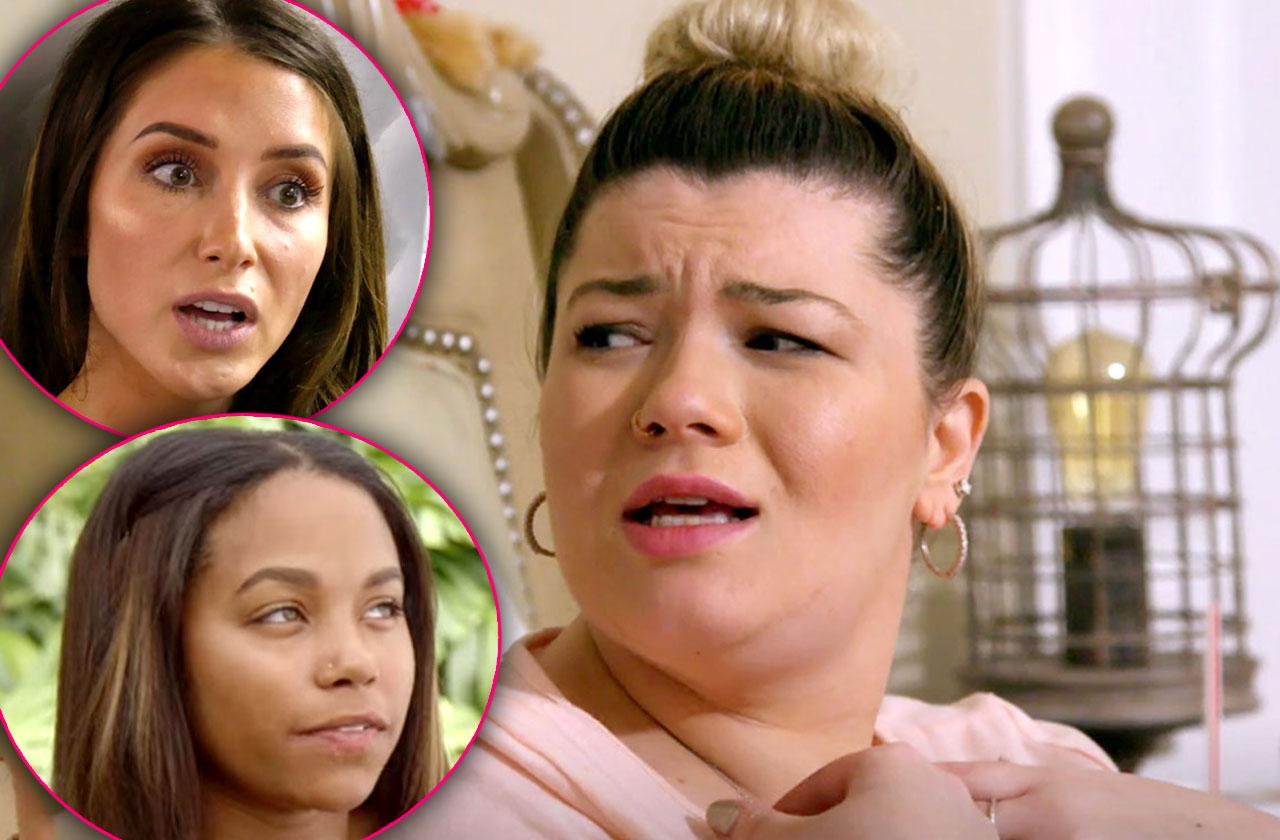 Article continues below advertisement
But their was drama, as Bookout told Lowell, "It's tough to automatically include someone and trust them. Cause I don't trust people like I trust you and Amber. As long as we show them how much we trust each other and how we really have each other's f**king back then it can only go up from there."
Portwood later went off on a producer, "Since we didn't get our phone call, we don't want another Farrah thing. Distancing herself from us and not being together. This show with us is family. We don't want it to feel separated in any way."
She then said, "We would really like some f**king respect. Are we doing something wrong that's not good enough anymore? It's the courtesy of letting the girls who have been doing this for ten years... who have built this franchise know what's going on on their show."
As RadarOnline.com reported, Portwood was "pissed off" over the new additions, while Lowell thought it was "stupid" to have women outside of the franchise join.
Article continues below advertisement
But when the ladies met for the first time, they all got along. They even cheered to the "New G's."
Also on the episode, Bookout learned her baby daddy Ryan Edwards is back in rehab for drug abuse, as RadarOnline.com exclusively reported.
"If he f**ks it up this time he's not going to have another chance when it comes to Bentley," Bookout told her friend. "If he comes home before the 90-day mark, nothing is going to be any different than when he left. If he stays there for 90 days he's going to realize through therapy and through the classes the work he has to do there. You got to find a way to deal with them without drugs or alcohol. You got to learn to cope with things on your own. I want him to be the Ryan everyone knows and loves. He's a goofy, funny, smart person."
As for Bristol Palin, co-parenting with ex-husband Dakota Meyer continues to be "frustrating," as she accused him of stealing money from her.
"My accountant deposited the money in the wrong account the day we got divorced," he explained. "She tried to put me in jail for 18 months over it. She's trying to bait me and it's just not going to work."
But Palin claims it wasn't an accident.
"I got another bill from my attorney, thousands and thousands of dollars it's costing me to go back and forth with Dakota to prove he's in the wrong of the money he stole. You stealing something that is not yours. You're not going to f**k with me. Maybe some day he'll have a conscious. Its been a long two years and I'm thankful I'm out of the situation."
And finally, Portwood feared that she could be pregnant again. But when she took a pregnancy test, it was negative!
Teen Mom OG airs Mondays at 9/8c on MTV.
We pay for juicy info! Do you have a story for RadarOnline.com? Email us at tips@radaronline.com, or call us at 800-344-9598 any time, day or night.
For the latest Teen Mom news subscribe to our podcast 'Teen Mom Time' below!