'Combative' Kim Zolciak Suffers Meltdown, Gets DESTROYED On 'RHOA' Season Finale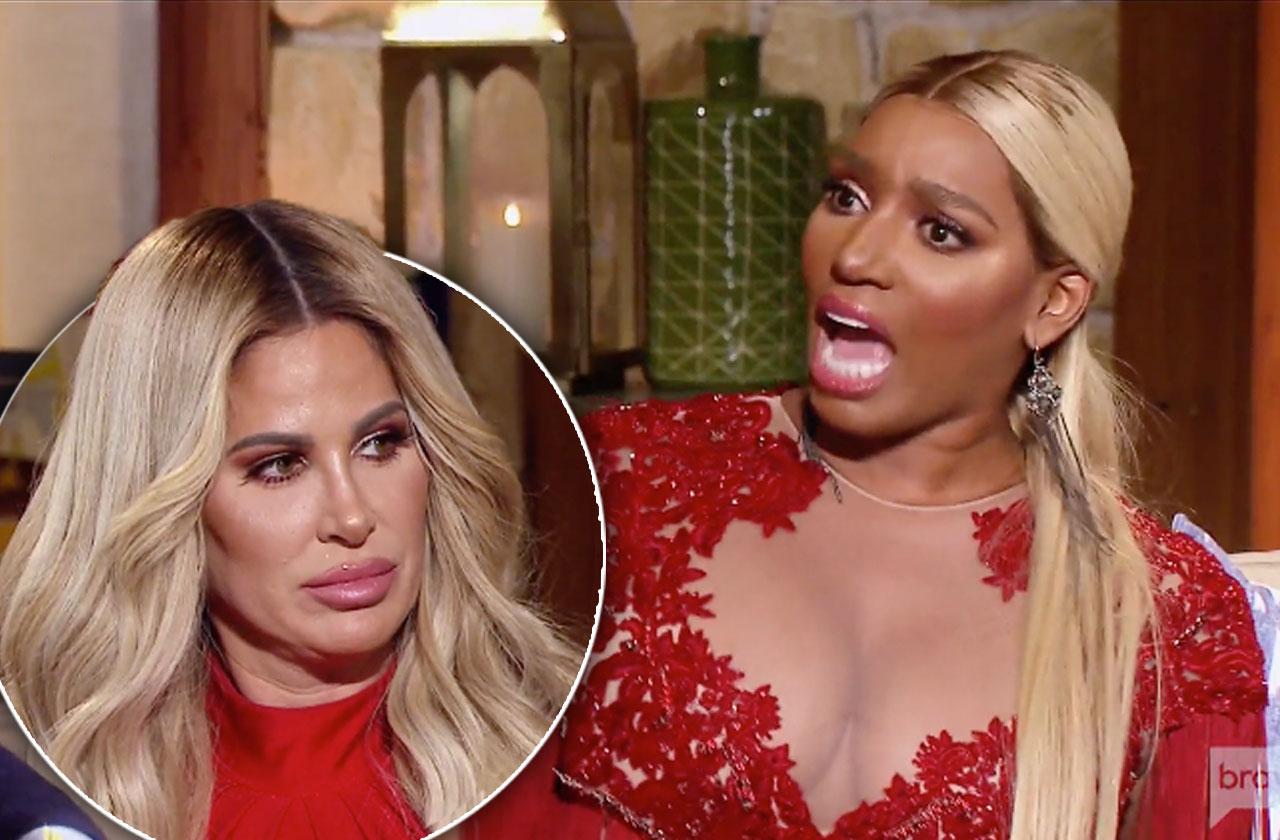 Article continues below advertisement
"It was a funny joke," Zolciak said. "Are you the parking meter mother**ker? Where is your scooter? Where is it b*tch ?" Leakes yelled.
"We're not getting anywhere," Cohen said and changed topics, talking to Sheree Whitfield (Zolciak's only supporter) about her prison boyfriend, Tyrone Gilliams.
She refused to reveal if they were having phone sex, telling Cohen: "A lady never tells. I'm not answering that," and admitting they were not engaged. She also said that he did not help pay for her mansion with the $5 million he was convicted of stealing.
Leakes explained why she talked about Gilliams. "I was so over constantly being asked about Tyrone. I called her Whitfield up privately. I had been asked so many times and I was very irritated. I don't care if it looks suspicious. I just think him and Sheree are a great couple."
When confronted about her Tweet about Tyrone she joked "I sucked his d**k. I did say that because I was constantly being asked. So, I said of course I sucked his d**k. I don't like that I'm being connected to this story."
Article continues below advertisement
Cohen spoke on the phone to Gilliams prior to the taping and told Leakes, "He said that you stalked him, you showed up in Philadelphia. You are not his type and you actively pursued him."
"I am not his type. We will talk to Lie-rone when he get out," she slammed.
Then Zolciak and Leakes started arguing about dating unavailable and married men, Leakes ripped into her: "You've been f**king a married man for years!" Cohen then asked Zolciak if Big Poppa ever divorced his wife. "I don't know," she replied.
Moore and Zolciak's constant feuding was the next topic.
"She was accusing me of being rude but this b*tch is the rudest in the world," said Moore. "Your husband is an idiot who turned a hoe into a housewife."
"Jealousy is a disease, get well soon b*tch ," Zolciak snapped and Burruss hit back, saying: "I don't think anybody is jealous of what Kim has going on."
Cohen asked Zolciak why she thought Leakes was on drugs.
Article continues below advertisement
"When I said I think she's on something I said it to her face. I don't know. I just said something is off."
"You don't know me like that," Leakes told her. "Something is very off about your a**. Your brain is not stopping on every mother**king floor."
"Do you still think that she has a drug problem?" Cohen asked.
"The way that she was acting is not the way that I've known NeNe to be," Zolciak answered.
Zolciak was then confronted about her comment that Burruss wanted to "lick her box" — which she denied.
"All these questions are just gross," she said and claimed she never said it.
"Kim you said it on camera," Cohen told her.
"You're sitting on the sidelines and now you want to come back and come for me? Ain't nobody trying to lick your mother**king box," Burruss slammed.
Roachgate ended the show, with Zolciak refusing to understand that roaches were "a metaphor for racism."
Article continues below advertisement
"You're f**king reaching," she told him and Burruss tried again to explain the negative connotation from Brielle Biermann's video.
"People equate roaches with the projects," said Moore, "it's similar to watermelon or monkeys."
Leakes said the video was offensive. "What she did was disgusting. She over here in my damn house and I'm a black mom and I let her a** know what time it is."
Whitfield tried to claim that she didn't see the video, but she did, and then said: "I didn't think the video would ever go anywhere."
Zolciak left the stage and Cohen wrapped things up by giving the women roses from Spain and asking them if they had any regrets and what they learned after the season and Bailey said: "I don't have to respond to every idiotic thing that comes out of someone's mouth."
Leakes apologized for her rape joke during her standup show. "Once again I do not want to hurt anybody."
BUT it didn't end there!
A crew member brought Cohen and the cameras into the bathroom where Zolciak was having a meltdown.
Article continues below advertisement
"That bitch knows I'm not racist. NeNe knows I'm not racist. You know why you have not found another white woman to join the cast? Because nobody is dumb enough to do that! Put yourself in my shoes — five African-American women — just hammered! I couldn't even speak, my mind's a f**king whirlwind!"
She asked Cohen: "How much can a person take? There wasn't even one positive question for me. I was hammered! There wasn't a positive question. I have a very successful marriage, I have beautiful children, there was nothing positive."
Cohen dished it right back to her. "There was nothing positive, unfortunately, in your story from the season," he said. "It was all combative, it was. Because your whole time on the show was combative, it was."
"Oh my God," an exasperated Zolciak responded.
As Radar readers know, Kim Zolciak was not offered a new contract to join the next season of the Real Housewives of Atlanta.
The end.
We pay for juicy info! Do you have a story for RadarOnline.com? Email us at tips@radaronline.com, or call us at (866) ON-RADAR (667-2327) any time, day or night.
Get the exclusive celebrity scoop on all the stars you love before any of your friends by subscribing to our new podcast 'Naughty But Nice' below!