Rob Refuses To Move Back In With Baby Mama Chyna Amid Cheating Scandal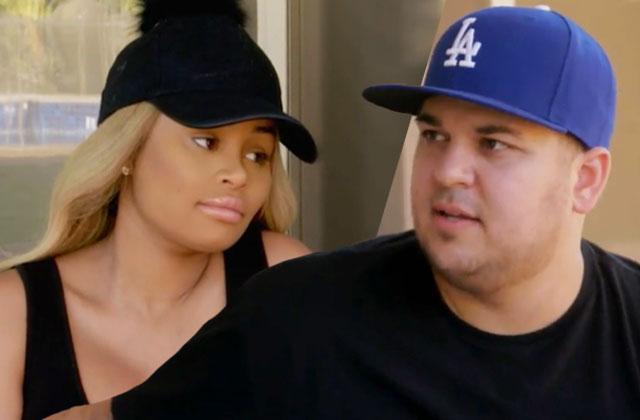 Is there any hope left for Rob and Chyna?
Just three days after RadarOnline.com exclusively revealed that Blac Chyna secretly cheated on Rob Kardashian with a sexier, thinner man, the volatile couple fought over trust issues on the new episode of Rob & Chyna.
After last week's explosive fight over alleged mystery texts on Chyna's phone, the Instagram model, 28, begged her man to move back home— but he refused and even flaked on a big birthday party at her house for her friend Patty.
Article continues below advertisement
"I miss the old Rob, the old sweet Rob," she sighed to a pal while grilling burgers for the bash.
"It bothers me that Rob never wants to leave the house and accuses me of cheating. He can't live a regular life because of his insecurities."
Meanwhile, Rob, 29, complained about his dysfunctional relationship at his own Calabasas house with sister Kourtney's baby daddy Scott Disick. And in his usual fashion, Scott said what many fans had been thinking.
"We're just two different people," Rob said. "I don't expect her to be like me."
"I don't even know if you know who you are at this point!" the Lord responded.
Rob acknowledged that he's paranoid about possible infidelities due to a past betrayal. (He once accused ex Rita Ora of cheating with multiple men before their 2012 split.)
"I just think the worst, it has nothing to do with her," he said of Chyna. "It's just everything to do with my past."
Article continues below advertisement
Scott summed up Rob's problems — and his own — in a phone conversation with Kendall Jenner, who was having a panic attack on a plane.
"Once upon a time a couple years ago, I lost my whole entire family. Then I had a really big drug problem. I was in rehab, then I got out, ," the troubled father of three said. "Rob hasn't come out of the house in three years, then then he knocked up his girlfriend after two weeks of knowing her."
Article continues below advertisement
He then said he still wasn't ready to move back in, but promised to accompany Chyna to a big party she was scheduled to host in Cannes, France.
But after a disastrous stylist meeting, an insecure, overweight Rob let his baby mama down once again by canceling on their trip last minute.
"You went MIA, you haven't been answering my phone calls, and then you tell me this a few moments before we have to leave? This is wack, Rob!" a furious Chyna screamed into the phone.
When Chyna returned, the two made up for the umpteenth time when this time, the pregnant star reached out the olive branch with an apology.
She said she was sorry she didn't understand his body insecurities, and vowed to be more supportive.
On next week's episode, the couple will head to Chyna's hometown of Washington, D.C. to meet her wild mother, Tokyo Toni, and many siblings.
Will Rob and Chyna make it through her pregnancy? Sound off in the comments.