Hillary in Hot Water! FBI Files Connecting Clinton To Adviser's Suicide Disappear!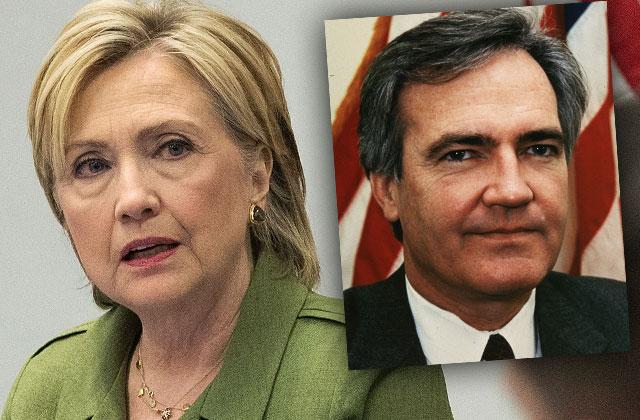 Documents tying Hillary Clinton to former White House staffer Vince Foster's mysterious death have gone missing from the National Archives, RadarOnline.com has learned.
The files in question were FBI reports that documented "Hillary Clinton's stinging humiliation of her friend and mentor Vince Foster in front of White House aides" that allegedly triggered Foster's suicide, Ronald Kessler of the Daily Mail reported.
Article continues below advertisement
Speaking with the archives' public liaison and the archives' director of communications and marketing, Kessler was able to confirm that the records could not be located, but was told that the reports were "not filed where they should have been and were somewhere else in the more than 3,000 boxes of records amounting to 7.5 million pages generated by the Starr investigation."
Foster's death still remains a mystery. He originally met Clinton when they worked on the Arkansas Bar Association's Committee and stayed friendly for many years. The two allegedly engaged in a steamy affair while Foster served as Deputy White House Counsel under Bill, but the tryst ended abruptly after Foster was mocked in the press for a scandal that involved improper firings of White House staff.
Article continues below advertisement
Foster then became severely depressed and in late July 1993 he committed suicide, though some, including Donald Trump, are wary of the details surrounding Foster's death. "Foster had intimate knowledge of what was going on," Trump said, skeptical of the Clinton administration. "He knew everything that was going on, and then all of a sudden he committed suicide," Fox News reported.
White House aides, along with friends and family of Foster said that a week before his death, Foster attended a meeting set up by the then first lady to discuss her proposed health care legislation.
"During the White House meeting, Hillary continued to humiliate Foster mercilessly, according to both former FBI agents, who spoke about the investigation for the first time," Kessler wrote. "Hillary put him down really, really bad in a pretty good-size meeting," FBI agent Coy Copeland told Kessler. "She told him he didn't get the picture, and he would always be a little hick town lawyer who was obviously not ready for the big time."
Article continues below advertisement
Former FBI supervisory agent Jim Clemente said Foster was "profoundly depressed, but Hillary lambasting him was the final straw because she publicly embarrassed him in front of others." He added that Hillary blamed Foster for "failed nominations, claimed he had not vetted them properly, and said in front of his White House colleagues, 'You're not protecting us' and 'You have failed us.'"
Kenneth W. Starr investigated the matter and issued a "38,000-word report, along with a separate psychologist's report on the factors that contributed to Foster's suicide," Kessler wrote. But Starr never mentioned the meeting with Hillary.
The missing files have yet to be located.