Hillary Snubbed! Obama Skips Clinton's Lavish Fundraisers As Scandal Grows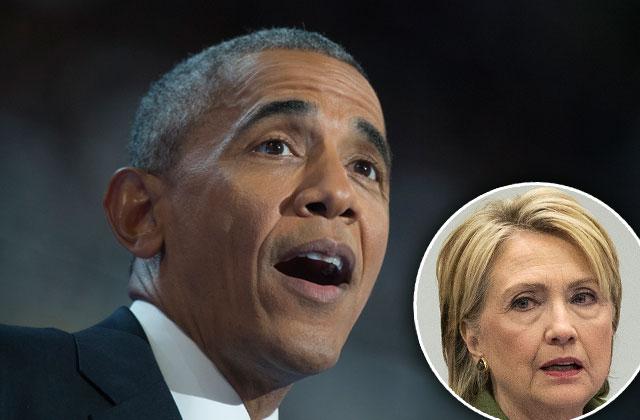 The Obamas have been living it up on their two-week vacation in Martha's Vineyard, but the president could not make time for Hillary Clinton's fundraising efforts or Bill's 70th birthday!
After Malia Obama was busted using pot, her father was busy golfing and spending his vacation away from all things political, including the devastating Louisiana flood.
At the same time, Hillary and Bill decided to make their way to the lavish vacation spot too, in part to celebrate Bill's 70th birthday and to appear at a bevy of fundraisers.
Article continues below advertisement
One of the fundraisers they attended was held at the home of Lynn Forester de Rothschild, a major Democratic National Committee donor. Rothschild is so loyal to Hillary that she publicly backed John McCain for president in 2008 after Obama beat her friend in the Democratic primaries, Politico reported. She later suggested Obama was elected based on race, not merit, creating a rift between her and the president.
"The fact of Obama's personal story of being half black and all that is a wonderful, inspiring story…But it doesn't qualify him to be president," Rothschild said, according to Daily Mail.
The Rothschilds' oceanfront mansion fundraiser, a $50,000-per-plate dinner, brought in $1.5 million for Clinton's presidential campaign, according to reports. But as Bill and Hillary were celebrating the former president's birthday, the Obama family watched the annual end-of-summer fireworks show on the island.
While Hillary continued her fundraising efforts, the president ate dinner with his wife at an upscale restaurant called Chesca's. In addition to avoiding the Clintons, the commander-in-chief seemed to be evading the public too, quickly dashing from his car into the restaurant without acknowledging anyone in the crowd around him.
"Barry you're rude!" one onlooker with a box of takeout pizza said. "We've been waiting here with cold pizza," Daily Mail reported.