Matt Baier Confesses To Hitting On Amber's Co-Star Farrah Before Settling For Her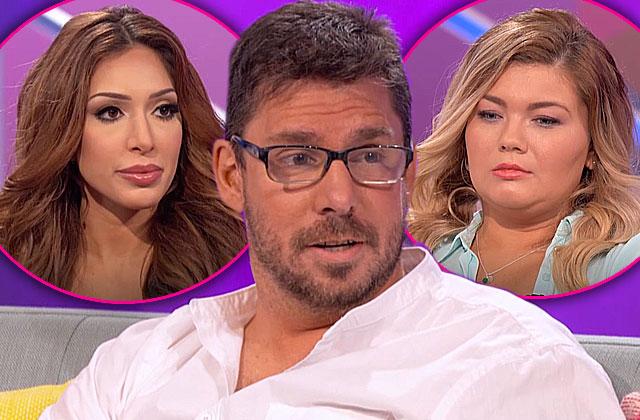 Amber Portwood's fiancé Matt Baier admitted to hitting on Farrah Abraham and Jenelle Evans first after RadarOnline.com exposed shocking tweets of his advances — and the latest bombshell almost ended their engagement!
On the season premiere of Teen Mom OG, Abraham's mother Debra reads RadarOnline.com's exclusive story to her daughter.
"@F1abraham thanks for the follow. I'm a big fan and u r very beautiful," Baier tweeted in early 2014, adding, "@F1abraham Farrah forget online dating. I'd be honored to take u out."
Article continues below advertisement
"What a f**king weirdo," Abraham, 25, said. "I just hope she dates better people than that. I'd cancel that wedding that's for sure."
Abraham's ex-boyfriend Simon Saran then read a tweet he wrote to Evans.
"I am a huge fan and think u r stunningly beautiful," he tweeted. "How about a follow? U will make a crappy Saturday good #please."
Abraham then texted Portwood, 26, advising her to "make changes in your relationship" because "that's not okay."
Although Baier called the reports "bulls**t," Portwood revealed Baier admitted to hitting on Abraham and Evans.
"I asked him about it and he was like, 'Listen that was a long time ago. I was just telling them they're beautiful,'" Portwood told Abraham over the phone.
She then revealed that she caught her fiancé in another lie.
"I said, 'You told me when we first met you didn't know anything about Teen Mom OG. And you didn't know anything about me, Farrah or Maci, but you knew about Teen Mom 2 so what the f**k is the truth?'" Portwood said. "It's lying. I think I'm getting sick of everything."
Article continues below advertisement
"He was great at first, but then our marriage became a nightmare," Reedy, who claims he hasn't paid child support, told RadarOnline.com. "I started to figure out that everything about him was a lie. I thought, 'What did I get myself involved in?'"
Teen Mom OG airs Mondays at 10/9c on MTV.