Ramona Singer's Party Ends In Fights & Tears As Bethenny Frankel Goes On Attack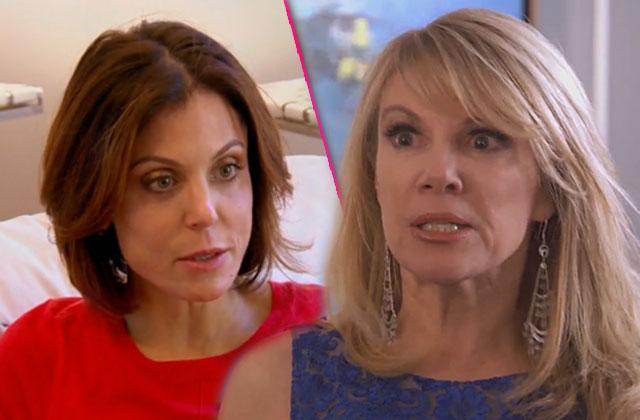 It's Ramona Singer's party, but the rest of The Real Housewives of New York City will cry if they want to!
Leading up to the Singer Stinger's 59th birthday bash, new alliances were formed and old enemies were made new again, all of which centered around the big "B," Bethenny Frankel.
Frankel had to deal with the lingering fallout of her own birthday brunch, which left her relationship with Dorinda Medley salty and her new acquaintance with Julianne "Jules" Wainstein sour. The martini mediator Medley took it upon herself to discuss with Jules what went down in the Hamptons, when Frankel was "awkward" at the Wainstein home, which she criticized for its messy construction.
Article continues below advertisement
"I'm glad she acknowledged how rude they were at my brunch," Jules said in her confessional. "I thought I was on crazy pills."
The RHONY newcomer, who is not used to Frankel's frankness just yet, said she "can't decide if Bethenny is intentionally rude, or dismissive or condescending or abrupt," and Medley and Carole Radziwill told her that, yes, it's all of the above.
"How can somebody say that's just her personality so that's OK?" Jules said. "Like, you want to be friends with somebody that's just rude and a b***ch? If you don't want to be my friend, keep your f**king opinion to yourself."
Eventually, Jules met with Frankel for lunch to smooth things over — and to give her own opinion — but the confrontation wasn't smooth sailing for a very confused Jules. The SkinnyGirl mogul called out Jules for her mumbling incoherent thoughts about how she felt their get together was "tense."
"I guess you can say Jules does not have a way with words," Frankel said in her confessional. "You need to give Jules a map to find the words. It's like charades."
Article continues below advertisement
Frankel finally figured out what her Asian-Jewish co-star was trying to say, realizing she felt Frankel was being "rude" for criticizing her home. The always sorry Frankel immediately apologized and defended Jules, literally.
"I get in a lot of arguments but I'm usually not arguing with myself on the other side," Frankel said. "I'm gonna represent Jules in the case of Jules versus Bethenny."
But all the awkwardness went away as soon as Jules opened up to Frankel about her battle with an eating disorder through her life, and Frankel ended up in tears, saying she "feels closer" to the new RHONY member and has "a lot of respect for her."
Just as that battle for Frankel was squashed, another war was waged. During lunch at Singer's bachelorette pad, Frankel brought up an old feud with Luann de Lesseps, saying she feels the same way she felt about her in 2010.
"She's always running game," Frankel admitted to Singer and Radziwill. "She's always angling and whens he doesn't need you, she doesn't need you. Bottom line is, I just don't trust her."
Article continues below advertisement
Frankel admitted that her feelings were rehashed a few months earlier in the summer when de Lesseps was mad she wasn't invited to a party in the Hamptons with Kyle Richards and Lisa Vanderpump of The Real Housewives of Beverly Hills.
"That's not Countess-like to invite yourself somewhere then badger me about it," Frankel said, calling de Lesseps "desperate."
Of course, there was no better place for Frankel to air her feelings about The Countess than Singer's birthday party, where de Lesseps awkwardly showed up with Bethenny's belated birthday gift. Poor Singer, who was trying to celebrate her first birthday as a single girl following her divorce from cheating Mario, was not only bewildered that de Lesseps brought Frankel a gift to her birthday party, but worse, Frankel got the better present! Frankel received a monogrammed designer handbag and Singer got a necklace from de Lesseps jewelry connection, which she had already received as a gift, but was having repaired.
"Luann actually re-gifted me the the same gift," Singer said in a confessional.
Out of the confessional, Frankel confessed her true feels for de Lesseps, who was completely taken aback by Frankel's bashing at the bash.
"I just gave her a gift and I get attacked," de Lesseps said, completely startled.
Frankel explained that she didn't feel it was right to be "badgered" about the party that took place months ago because that's "not what a friend does."
Article continues below advertisement
"Friends don't do what you're doing to me right now," de Lesseps retorted, to which Frankel responded with a hurtful remark: "I don't think you're honest about your life," she said.
The Countess, rarely one to show she's hurt, completely broke down, admitting to Frankel that she "just wanted to be included" and that she's lonely and "living out of a bag." Someone who definitely knows what that feels like is Frankel, who complained for months during her divorce that she was forced to stay in hotels, and made amends with de Lesseps.
Eventually the focus turned back to Singer, who was being awfully well-behaved at her own birthday bash, when Medley gave a toast about friendship (odd, given she's fast losing her friends because of her boyfriend) to "the ladies who lunch" and by the looks of it, drink, like Sonja Morgan, who showed up completely disheveled because she had a "big night" the previous evening.
No surprise there. Earlier in the episode, Singer called out Morgan "out of the blue" for her drinking, something the ladies fought a lot about last season, proving yet again, everyone is still picking on Lady Morgan.
"I kind of wasn't being totally truthful when I kind of distanced myself with you," Singer admitted to Morgan. "I kind of stayed away from you a lot at night because I do see you drink too much."
And, naturally, Morgan had the perfect thing to say because, as she says in her tagline, being Sonja "feels so right."
"Luckily I have plenty of friends who like to go out and drink," she said. Touché.
Watch The Real Housewives of New York City on Bravo on Wednesdays at 9/8c.