'Check Yourself!' Bethenny Frankel Brawls With Dorinda Medley's Boyfriend On 'RHONY'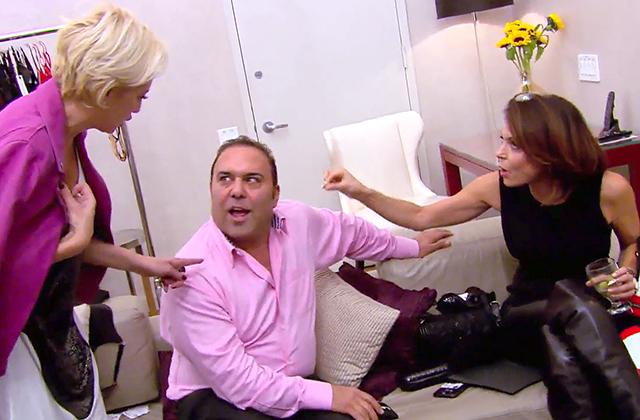 The wounds were still fresh on this week's episode of The Real Housewives of New York City, especially when Shakespeare tragedy, Julius Caesar, was quoted and Ramona Singer was compared to Brutus shoving a knife into Dorinda Medley's (a.k.a. Caesar's) back. Et tu Ramona? Needless to say, when Julianne "Jules" Wainstein's husband made the reference, she was left utterly confused and didn't "remember that part of the movie."
Article continues below advertisement
While the epic bra fight did not end with the brutal betrayal of Medley, Singer did choose to reveal very personal gossip she'd overheard about Medley's boyfriend, John Mahdessian, popping Viagra and bragging about his exploits with Dorinda Later, realizing her mea culpa, Singer delivered a robotic apology to Medley.
"Dorinda, I never should have said what I said. I apologize," she admitted, departing almost as quickly as she apologized.
Dorinda, dazed in Singer's wake, remarked, "So, basically she did a drive by shooting."
The bra battle continued with major sparring between ballsy Bethenny Frankel and Mahdessian, after he decided to crash the party with what the SkinnyGirl mogul called "eyes dilated like you've never seen in your life."
Medley was, of course, mortified — again — over having to defend Mahdessian's bizarre and aggressive behavior, even urgently begging him to leave the party.
Article continues below advertisement
"What are you doing with at a bra party dude? Do you have a vagina?" Frankel asked in her confessional.
Mahdessian and Frankel fight continued soon after, as if the feud had been between them all along.
"Ever heard of Skinnycow?" Mahdessian asked incredulously at one point (good one!).
"You don't dare come into my party and start problems with Bethenny," Medley interjected, attempting to manage John.
Always ready for a fight, Bethenny defended her brand, "You wanna blow some lines and talk this story through?"
Being fully unprepared and clearly too tipsy to talk marketing strategy, Mahdessian slyly changed the subject, attacking Bethenny's failed relationships instead. "You don't know what love is about because you don't know what love is. You're jealous…because you can't hold a relationship."
Dorinda, as you can imagine, exited stage left in tears.
Mahdessian left without being fitted for a bra — despite the fact that his shirt lay half open — leaving Bethenny as the sole victor.
Article continues below advertisement
"She knows that all of it's true and that's why she's defensive," she concluded of their fight. "He's a terrible influence and it's disgusting. Dorinda's hooked on the high of it and the action. He's a partier but it won't end up well."
Days later, Medley, Singer, and Frankel attempted to patch things up in the Hamptons. While Medley and Mahdessian were supposed to be staying at Singer's house that weekend, Dorinda refused outright, saying, "It's like the mirror is cracked. I might look in the mirror from time to time but it will always be cracked."
The persecuted couple eventually chose to take refuge at the Wainstein's, but not without some more drama. Mahdessian, being the classy man that he is, arrived at their home with a magnum size bottle of cheap looking wine. Yikes!
Meanwhile, Medley was busy sending texts to Ramona, expressing how deeply hurt and betrayed she felt. Unfortunately for her, Ramona read them aloud to cameras: "My heart is broken my dear friend. you were my safe place I loved you so much."
Article continues below advertisement
When Singer and Medley finally exchange apologies, the group of 'Wives met for a "friendly" dinner. Frankel, still hoping that her fight with Mahdessian had knocked sense into Medley, expected a peaceful outing — but that's not what she got.
Instead, Medley laid into Singer and Frankel (the latter of whom she referred to as "a piece of s**t"), sharing that she was "surprised on so many levels" regarding Ramona's accusations about John.
Never one to take things lying down, Frankel cut in to tell Dorinda to "check" herself and apologize for the way John behaved. Surprisingly, Dorinda did! But she wasn't ready to give up her man completely just yet.
"Here's the thing, you guys — I love him," she confessed.
Realizing she wasn't going to make any headway with Dorinda, Bethenny ended with a kinder caveat: "Just take care of yourself."