Sonja Morgan Bites Back At Bethenny Frankel For Calling Her An Alcoholic Behind Her Back On Explosive 'RHONY'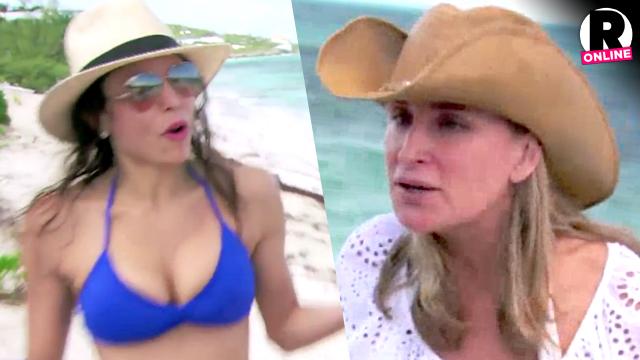 On Real Housewives of New York Tuesday, Sonja Morgan defended herself against Bethenny Frankel's claims that she's an alcoholic.
The morning after Frankel told Morgan to "shut the f*ck up" while she tried to talk to her about her partying, Morgan discussed the altercation with Dorinda Medley.
"I'm very upset because Bethenny has a different style," Morgan said of Frankel's tough-love approach. "She doesn't have the education, she just doesn't have the manners."
Article continues below advertisement
Medley responded, "Stand up and say, 'Stop it! I want you not to be interested in me.' They like it when you get really drunk and sloppy. They love it because these people aren't looking after you."
After talking with Medley, Ramona Singer filled Morgan in on the conversation she had with Frankel the night before, where the co-stars discussed their concern over Morgan "self-medicating."
"You and Bethenny were having words and it all started because they think you have a major drinking problem," Singer said, leaving out that she too thinks Morgan has issues with alcohol. "Bethenny thinks you're an alcoholic."
When Morgan confronted her, Frankel responded, "You do some things you would not do if you were not drinking. Every single person has said you have literally gone after their guy."
The accusation set Morgan off, as she fired back, "I've never been with someone's boyfriend, I've never been with someone's husband. So you could just take that theory and cram it!"
When Frankel explained that both Singer and LuAnn de Lesseps said that Morgan "needs a walker every night," Singer came to her friend's defense by saying that she too needs someone to take her home.
Article continues below advertisement
Luckily for Frankel, de Lesseps arrived just in time to back her up, as the Countess explained that Morgan wanted her to put her to bed after a night of partying.
"LuAnn needed someone to get her home the other night too," Morgan responded. "So why are you all in my sh*t? Get out of my sh*t!"
Morgan added, "You're talking behind my back about it. I'm pissed because you all think that I'm so f*cking nice that you can talk behind my back. Do it when I'm there!"
When Frankel told her that she knows Sonja feels like she's being attacked, Morgan replied, "I'm not under attack, I'm attacking you b*tches! I'm sick of being nice to all of you. Step away from me. Stop talking about me because I'll start talking about you!"
Morgan ended the conversation with, "F*ck you all!"
Watch the video right here on RadarOnline.com
But the fighting didn't end there, as the drama started up again before the women even made it to the restaurant for dinner!
Article continues below advertisement
Arriving in separate cars, Medley called for Thomson to wait for her so they could walk into the restaurant together. But when Thomson didn't turn around, Medley fired at her for ignoring her.
"You should be nicer and say you're sorry because that was not nice the way you treated me," Medley cried. "I never treated you like that before."
Thomson responded, "I can't believe how you just treated me!"
Medley yelled back, "Forget it, you're acting like a b*tch."
But once the women had martinis in their hands, all was forgotten.
"I am very sorry that we had such a misunderstanding," Thomson said, as Medley responded, "You know I love you."
Watch the video right here on RadarOnline.com:
Also on the episode, Singer opened up to Frankel about her separation from her cheating husband Mario Singer.
"He's part of me," she cried. "He's part of my soul, he's in my heart. I don't know how to fix him. I wish I knew how to fix him. I can't fix him and I want to fix him so badly."