He's Not Gonna Take It Anymore! Dee Snider Joins Chorus Of Ex-Howard Stern Pals Shocked Over Radio Icon's Flimsy Friendship — Apologizes Over Source Of Friction That Ended 30-Year Relationship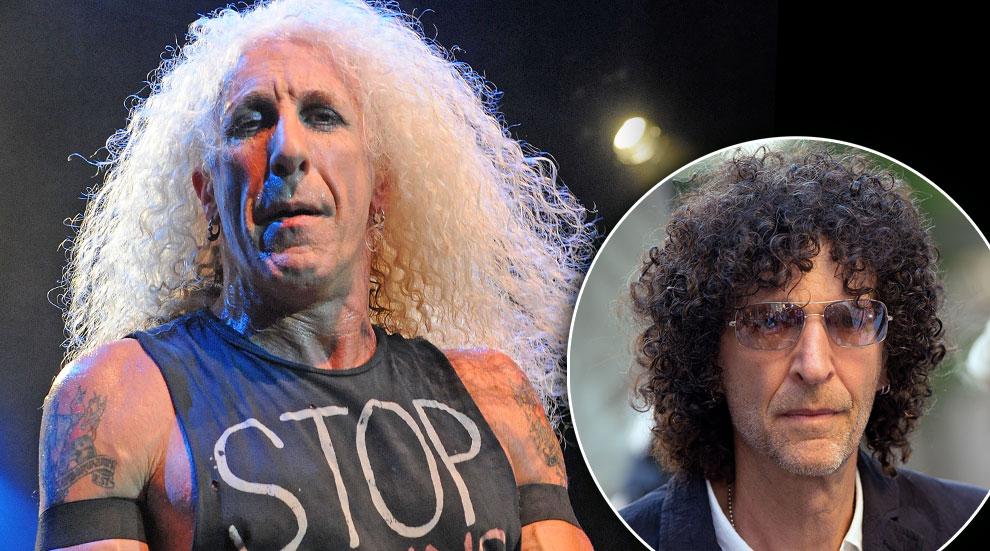 The hits keep coming for Howard Stern, as more former friends and colleagues are publicly speaking out about the drastic changes the King Of All Media's made in both his professional and personal life in recent years.
The latest in this evolving story features remarks by the radio icon's one-time confidante Dee Snider, coming on the heels of similar sentiments from Stern Show legends Artie Lange, "Stuttering" John Melendez and Jackie "The Jokeman" Martling.
Article continues below advertisement
Snider, the former lead singer of '80s metal band Twisted Sister, opened up on his podcast, Snider Comments With Dee Snider, about how his tight-knit friendship with Stern unraveled with the radio star's rise to A-list fame, and the rocky path that he regrets distanced him from the man he called an inspiration in his rebirth as an on-air personality.
"Those who are Howard Stern fans know that at one time, Howard and I were very close. And even though he doesn't speak of our friendship falling apart, it has, and it doesn't exist anymore," the multi-platinum singer, 60, said. "And that's the thing about Howard, when he's mad at you he talks about you on the air -- when he's really mad at you, it's like you don't exist."
Fast Friends
Snider said his path first crossed with Stern's when he was "on top of the world" in his music career in 1985, a timeframe in which the King of All Media had established himself as one of New York City's top radio presences on WNBC. He said that after Stern jabbed at him on the air, he confronted him lightheartedly about it and the two became fast friends, based on their common bonds: both were Long Island-based family men around the same age, neither preferring the partying lifestyle. Snider took credit for giving Stern the first of many rock and roll makeovers, during a timeframe in which Stern "still looked like an accountant." While thriving as an on-air guest, Snider's career as the frontman of Twister Sister started "taking a nosedive" -- a fall accelerated by the PMRC controversy of the mid-80s -- and he fell "dramatically" and "tragically," resulting in his first bankruptcy.
Article continues below advertisement
Untwisting Things
Snider's professional life was in disarray, but Stern remained a loyal friend, helping guide the singer toward a career as an on-air personality. With Snider's bold voice and likable, charismatic personality evident during his in-studio appearances, Stern hooked Snider up with industry contacts that would be key in helping the rocker reinvent himself as a radio host. "At this point in the late 80s, I'm being written off by everybody, and I've got this one stalwart friend who is passionately campaigning for me." Snider said Stern scoffed at the notion of limiting his airtime due to his dwindling fame, telling the reeling singer, "It's not about who you are, it's what you are," and that he'd "rather have somebody interesting on the air than someone boring and famous."
Snider's path would lead him to Florida in the 1990s, where he did day work to make ends meet with an eye on resurrecting his career in the entertainment industry. He eventually paid his dues with a low-paying weekly gig hosting a heavy metal show in his native Long Island. Other doors soon opened up, and in his efforts to establish a higher profile, Snider faced off in an on-air showdown with Chicago radio personality Erich "Mancow" Muller, who was embroiled in a cruel and personal feud with Stern at the time -- something Snider was unaware of.
Article continues below advertisement
Watch the video on RadarOnline.com (WARNING: Content Is Explicit)
Snider realized soon enough after Stern stopped returning his phone calls. "After a fourth third or fourth call, I realize Howard is not responding. So I'm leaving a message and I'm like, 'Hey man, this is my third or fourth call to you and you haven't called me back, I'm starting to think something's wrong.'" When Stern answered the call and confirmed that there were hard feelings, Snider tried to make things right, pointing out to Stern that he could have communicated better. He told him, "I didn't realize you were mad at me because you didn't tell me!" The rocker added, "This is classic Stern: He won't say it to you, he won't confront you, he just stops talking." He added, "In fairness to Howard, our careers were on the same trajectory back in the late 80s, but when the 90s came and my life and career fell, his just kept on going and going and going and going."
Snider's career in radio continued to grow, and he found himself with a six-figure offer to host a morning radio show in Hartford, Conn. The catch: He would have to compete against Stern. "So immediately, red flag! I'd be going up against Howard in the morning, so I call Howard and I say, 'Howard listen, I got offered a show but it's in Connecticut doing mornings.' He said, 'Dee, you got to do what you got to do' -- those were his words," Snider recalled. Trying to accept the life-changing offer -- and stay friendly with his radio mentor -- Snider offered Stern a 10 percent cut of his salary, but the shock jock refused. "He said, 'Dee, I don't want your money, I don't need your money, I'm happy to do it for you man." Not too happy, however, as he cut off Snider for a second time. "Howard stops talking to me; I don't know why he stops talking to me," Snider said. "On my radio show, on my first day in the market, I say, 'I am a Howard Stern fan, everything I know about doing morning radio I learned from Howard Stern, if I lived in this market I wouldn't listen to me, I'd listen to Howard Stern' -- this is what I literally say." (Stern, years later in 2006, eventually admitted he was upset with Snider over his decision to compete against him, conceding that while he gave Snider his blessing to take the gig, he felt his one-time friend "should have just known better" than to ask.)
Article continues below advertisement
Later Years
The two reconnected earlier that year when Stern made his trumpeted move to then-Sirius Satellite Radio, where Snider had been hosting a weekly show called Fangoria. Snider said that while things were "definitely not the same" -- Stern gave him "word service" during their brief, cordial interactions -- it was "nice to have his friend back in some capacity" all the same. But despite more than two decades of friendship leading to Stern's October 2008 wedding to Beth Ostrosky, Snider and his wife Suzette did not make the guest list, a celeb-packed roster that included names such as Barbara Walters, Billy Joel and even Stern's one-time rival, Chevy Chase. Said Snider: "Howard, at this point, is inviting all these celebs and I'm not back on top yet."
Adding salt to the wounds, Snider said, was Stern talking about why he excluded his one-time ally from the affair, on his Sept. 29, 2008 broadcast. "So Howard is getting married and in one of the episodes, Robin asks Howard why he didn't invite me and Suzette to the wedding," the rocker recalled. "And Howard goes, on the air -- this is the passive-aggressive Howard, because Howard could say this on the phone to me -- he goes, 'You know, I feel really bad about it, because I didn't have enough room on the list ... I just feel guilty, it seems last minute, kind of an afterthought, it's kind of insulting,'" Snider said. "So this is everything he wants to say to me and he's saying it on the air, knowing full well I'm going to hear about it." Snider said that he could understand the "awkward" element to a potential invite, as he and his wife "were friends with Stern's first wife Alison too, and Suzette had the sense of loyalty to Alison, because she felt guilty hanging out with Howard's new girlfriend at that time, Beth."
Article continues below advertisement
Snider said that while he didn't show any outward emotion at the snub, he realizes in retrospect, it upset him on some level. "I will say now that I realize subconsciously that I was upset ... it hurt me a little bit," he said. "I said on the surface that it didn't, but it must've." The lingering hard feelings triggered a chain of events that resulted in their final parting, after Snider gave an interview to Chaunce Hayden, the East Coast writer who was a regular guest on the radio show until a falling-out amid Stern's move to satellite. Unaware of the bad blood, Snider spoke openly about his relationship with the Private Parts star. "I sing Howard's praises like I'm doing right now -- how much I love the guy, how much he's meant to my career, how he's one of the few people that stood by me through thick and thin," he said in the interview, which took place as feelings were raw, just weeks after the wedding.
When asked by Hayden if he was bothered that he wasn't invited, according to Snider, "I said, 'No, we don't know Beth, and we've always been friends with Alison and it's a little weird, and besides, Howard's socializing with people now that he wouldn't have given the time of day to 20 years ago' ... well, that was the headline." While fans of the show lauded the "I Wanna Rock" singer for his bluntness -- "Finally, somebody said it," was the overwhelming feeling, Snider said -- Stern was not amused. "Howard sends me a terse email telling me how f**ked up I am for saying something like that, and you know what, it was wrong; flat out wrong, I shouldn't have done it, I shouldn't have said it, it was not cool to say," Snider said, adding that he made multiple efforts to repair things with Stern after the seemingly-innocuous observation. "He sends me a terse email telling me off, I immediately pick up the phone to call him -- because email's for pu**ies -- he won't answer the phone. I sent him emails, he won't answer the emails, he won't respond. And again if he's really mad at you, it's like you don't exist."
Article continues below advertisement
I'll 'Never See Him Again'
After years of silence, Snider received an invite to appear on America's Got Talent during Stern's first year on the program in 2012, causing him to suspect that the radio host was reaching out again, albeit in a "passive-aggressive" manner. Still, he was happy to oblige, not realizing that producers had secretly booked him so as to "surprise" his "friend" on camera, not knowing the rift that had began four years earlier. While Stern delivered nothing but smiles and a standing ovation on camera, the rocker said he knew from the radio king's reserved demeanor backstage that some tension remained. "We see each other, we talk, we chat, it's like old friends -- small talk this, small talk that," Snider said, adding that the discussion didn't consist of anything "substantive." When his manager predicted that things were "finally fixed" Snider quickly corrected him, "Oh no they're not," predicting he would "never see him again." Still, he did his best to try and parlay the AGT pow-wow back into Stern's good graces, to no avail. "I get back, try calling him, no answer -- try emailing him, no answer -- I never heard from him again," he said.
Watch the video on RadarOnline.com
At that point, the earnest entertainer launched into an emotional apology for blindsiding his old friend in regards to his comments in the Stepping Out interview. "Sorry Howard for saying those words, they were wrong, they were unfair," Snider said. "The two of us came up together, and the truth be told, if I stayed on the same trajectory as you, we would be connected," Snider said. "Our career paths changed, you continued on, you went one way, I went another way, it was wrong for me to say those words in any medium and it breaks my heart that a person who stood by me through it all, that I hurt that way." He continued, "So he'll never hear these words, he'll never listen, he'll never reach out, he'll never acknowledge, he won't allow me to acknowledge, but I owe that man a lot. Alright, I told the story."
Snider Comments With Dee Snider can be found on PodcastOne. Live editions of the Howard Stern Show air Mondays thru Wednesdays on SiriusXM.