Howard Stern's Longtime Sidekick Jackie Martling Opens Up On 'Hurtful' & 'Rude' Snubs — No Wedding Invite Despite 25-Year Relationship, Dead Cat Mockery & More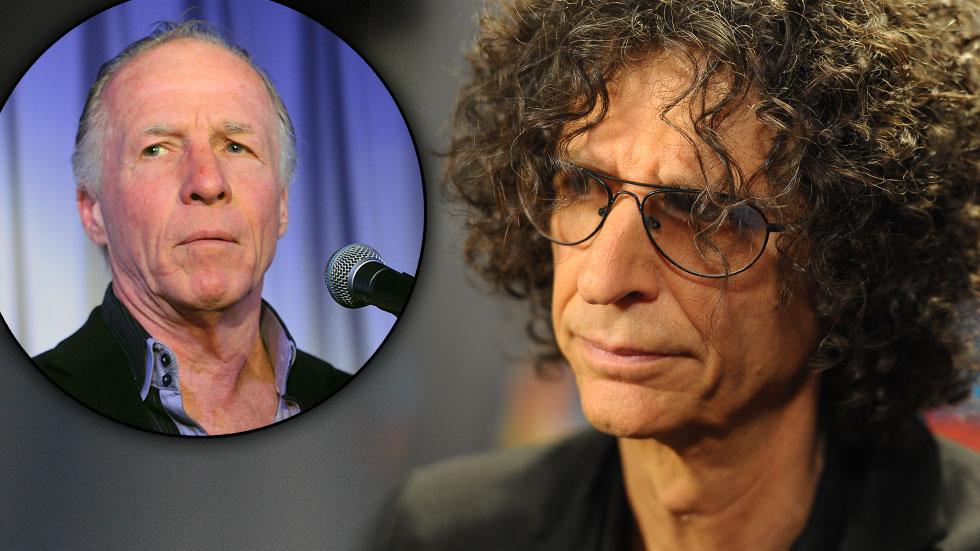 Howard Stern's longtime head writer Jackie Martling opened up on the King Of All Media's "hurtful" wedding and birthday party snubs, shared behind-the-scenes details of his departure, and commented on the radio icon's 180 degree turn on cats. Speaking with the podcast Radio Gunk this week, the veteran comedian held nothing back in a revealing two-hour interview, and RadarOnline.com has all the highlights for you.
Article continues below advertisement
Shocking Behind-The-Scenes Details
Martling, 67, was Stern's right-hand man from 1983 until leaving in February of 2001 over a salary dispute. A fan favorite, the cackling Bayville, New York native fed Stern, 61, hysterical one-liners to complement his on-air commentary, and provided endless material for the show with details of his colorful personal life. He said that Stern's current writer Benjy Bronk "had a hand" in his way out the door, as Bronk's 2000 inclusion into the studio disrupted the chemistry of a comedy show he called a "well-oiled, wonderful machine" by that point.
"It was unfair and he was in the way," Martling said, speculating that the surprising personnel decision might have been influenced by the former America's Got Talent judge's longtime agent, Don Buchwald, as the comic was the only one among the show's principal players who Buchwald didn't represent. "Maybe it was Buchwald's way of saying, 'You can be replaced this easily,' for whatever reason, it was absolutely rude," Martling said, adding that he "doubted that Don Buchwald ever had any kind of sense of exactly what I was doing and how important it was" to the show. Martling continued, "I can almost hear Don say, 'Howard, this is your opportunity to get rid of Jackie, you got Benjy there, he can handle the job.'" Martling said he didn't understand the ultimate decision not to give him a raise, as he knew he brought Stern endless laughs on the job, as the two had electric professional chemistry.
Article continues below advertisement
Watch The Video On RadarOnline.com (WARNING: Content Is Explicit)
Martling speculated that his searing, no-holds-barred sense of humor also might have factored into his way out the door. He joked that with his exit, three of his routine targets -- former co-workers Robin Quivers, Fred Norris and Gary Dell'Abate -- went "on vacation" for the duration of their time on the show. He speculated that the Private Parts star might have been intimidated at the prospect of becoming fodder for jokes himself, in the wake of his 1999 separation and subsequent divorce, leading to the radio host's emergence as one of New York's most eligible bachelors for a brief period. "It was my job to break b*lls ... maybe he was worried that every time he looked over at his new girlfriend, and I giggled to mock his idea that, 'Here's a girl who loves me for me,'" he said, referring to Stern's now-wife Beth Ostrosky, 43. "I really think that part of the reason that I'm not still there is that Howard thought that I was in no way essential to the broadcast."
Martling said he had no regrets about pushing for a higher salary, expressing his shock over the comparatively-passive nature of Stern writer/sound effects ace Norris, his former partner-in-crime on the top-rated ratings juggernaut. "I'm the only one that ever asked for more, so I looked like a bad guy … I stood out because I was the only one that ever asked for more. I love Fred, but I would bet in 30 years, Fred has never said, 'I want more,' and I love him and I don't mean that disparagingly." Martling wondered aloud about a potential salary disparity between Norris and Stern, whose partnership dates back to the late '70s. "I don't want to get into it but, how does Howard make like a gazillion dollars, and how does Buchwald turn to Fred and say, 'We just don't have the money?'"
Article continues below advertisement
Double Diss?
Martling opened up to Radio Gunk about how not being invited to two key events in recent years -- Stern's 2008 wedding and 2014 Birthday Bash -- left him bewildered, with the history between the two. "I wasn't invited to the wedding, which people really couldn't believe ... I was an arm's length away from him for 15 years, five hours a day, five days a week," the comic said of Stern's October 2008 nuptials to Ostrosky at New York City's Le Cirque. "I don't understand, and never will, him not inviting me to the wedding. That had to be a very odd … it didn't hurt my feelings, so much as it made me hurt for him ... it was hurtful, but I guess understandable." He continued, "How could you do that? I don't really get what the logic was, maybe Beth didn't like me, because as far as I could tell, she did." The event itself was a celebrity bonanza, officiated by Kelly Ripa's husband Mark Consuelos, and including a guest list of household names such as Barbara Walters, Billy Joel and then-wife Katie Lee, John Stamos and Chevy Chase, who Stern mercilessly ridiculed during an early 90s feud. Martling was stunned at the National Lampoon's star's presence at the bash: "Chevy Chase went to the wedding?"
Even more celebrities were in attendance at Stern's Sirius XM-sponsored 60th birthday show, held January 31, 2014 at the Hammerstein Ballroom. There, the guest list included Katie Couric, Robert Downey Jr., Andy Cohen, Adam Levine, Louis C.K., Lena Dunham, Jonah Hill and all three late night network hosts, at the time -- Jimmy Fallon, Jimmy Kimmel and David Letterman. But again, Martling failed to get an invite, despite the fact that he'd hosted a show on Stern's satellite channels alongside co-host Ian Karr. "So then I'm there eight years, and Sirius XM -- not Howard, but Sirius XM -- threw Howard a 60th birthday party, and we were not only on the Sirius XM staff, we were on the Howard Stern staff at Sirius XM," he said. "And Ian and I weren't invited to the 60th birthday party -- everybody was invited! I must have got 25 emails from people saying, 'Can I be your plus-one?' and I had to write back and say, 'I wasn't invited,' and people couldn't believe it ... none of those things were really believable." Martling stressed that he has "no animosity" toward Stern in the wake of the events, adding that he realized how at peace he was with his current life following a brief cancer scare. "I wouldn't change anything, I love what I doing, I'm going to keep telling my jokes, I'm going to keep dating girls, I'm going to keep doing what I do," he said.
Article continues below advertisement
Cat Got Your Tongue?
Martling said he was particularly shocked by Stern's newfound love of kittens, as the radio star and his wife Beth created Bianca's Furry Friends Campaign, a cat shelter project as part of their philanthropic efforts with the North Shore Animal League. But it was a far different story in 1996, when Stern and the gang yukked it up after Martling revealed his beloved cat "Timmy" had gone missing, later making an announcement that the cat had been found dead.
Watch The Video On RadarOnline.com (WARNING: Content Is Explicit)
"What kills me is that whole thing with my poor cat got killed ... they had a field day with that, which was so horrible -- but how does he balance that with this whole thing now?" Martling said. "I mean, has his wife heard those shows about the cat?" he asked of Ostrosky, who chronicles her love of felines via her Instagram account. The entire ordeal deeply "hurt" Martling and his then-wife Nancy, the comic recalled. "We didn't have kids, and that cat was so dear to Nancy and they thought that was so so funny," he said. "Everybody is allowed to change, but the irony of it is crazy ... its just odd that there's a whole cat love thing."
Martling's remarks come on the heels of a recent exchange between former Stern regulars Artie Lange and "Stuttering" John Melendez, who commented on the drastic changes Stern has taken personally and professionally in recent years.
Jackie Martling stars in "The Jackie Martling Show" 8 p.m. every Monday at New York City's Broadway Comedy Club. Episodes of Radio Gunk can be found at radiogunk.com. Live editions of the Howard Stern Show air Monday thru Wednesday on SiriusXM.