Howard Stern Says Artie Lange Questions Are 'Getting Uncomfortable' -- Snaps At Caller Over Inquiry About Former Co-Host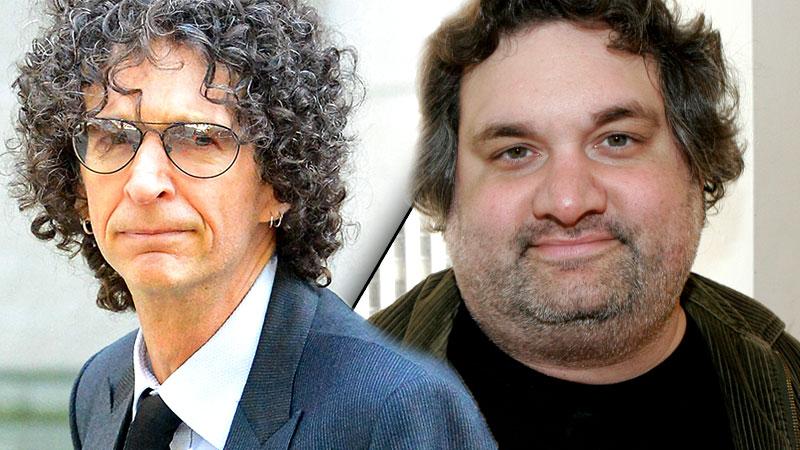 Howard Stern Wednesday lashed out at a caller who asked him why he hasn't corresponded with former co-host Artie Lange, or welcomed him on as a guest on his radio show.
And while he lavished Lange with a stream of boilerplate compliments, Stern didn't directly address the question, instead venting his frustration at the endless references to his sidekick of eight years, amid Lange's recent revelations that Stern has not returned his calls, and that his attempt to make a final appearance on the show was quickly shot down.
Article continues below advertisement
The exchange occurred when a caller named "Matt" asked the King of All Media, "Why is it that you haven't talked to Artie and why haven't you had him on the show? Because it sounds like he really wants to come on the show."
Hear The Audio On RadarOnline.com
The normally-unflappable Stern took on a terse tone, responding, "Listen, I addressed Artie yesterday; I know there's a lot of guys on Twitter that say, 'Why don't you have a conversation with Artie?' I told you yesterday -- I like Artie very much, I'm a big fan of Artie's -- but this show is not the time and place to discuss Artie's situation."
The Private Parts star said that "it's becoming uncomfortable to him to keep getting the same call over and over again," adding that he was "wise" to what the caller's agenda was.
"Artie is a terrific guy, we love Artie, Artie's a talent ... but what you're attempting to do is rile me up ... I know what you're doing, I told you. Artie is terrific, We love Artie, what do you want me to do? You want me to jump up or down or something, what?
Article continues below advertisement
"How many times are you going to call in or tweet me and ask me about Artie?"
An irritated Stern then declared, "I'm not involved with Artie -- goodbye," before hanging up on "Matt," who he called "c**t lips."
Stern -- who said he and Lange "embraced" when they saw each other last -- continued praising the Beer League star, saying, "I love him, what can I tell you, I think he's great ... Artie's doing well, he's doing fine, let it be: Who doesn't love Artie?"
The radio legend then addressed a laundry list of complaints he's been inundated with from his followers, as of late.
"You know I go on Twitter, and all I hear now that I wear a wig, that I should be in touch with Artie, and there's another thing going on ... which is that I'm politically correct, that I'm being managed now into being politically correct," Stern said, in reference to recent reports about his hand-picked efficiency expert, Sirius executive Marci Turk.
Article continues below advertisement
"What am I going to tell you? How do you respond to the nonsense on Twitter?" he asked. "I mean someone's interested in me but, I don't know."
The retired America's Got Talent judge stressed that the aforementioned issues are "nothing that he hasn't addressed" in the past.
Stern's co-host Robin Quivers implied that she found it strange that "the rumors continue" because Stern remains "so accessible" and broadcasting "every day."
Lange, who has been outspoken in his praise and admiration of Stern, took to Twitter in the wake of the rant, encouraging his fans to lay off of bringing up the issue to Stern.
"Sorry guys just woke up," Lange said. "What did Howard Say? I really appreciate u guys thinking of me but bugging Howard on air isn't logical now. Luv ya … guys as much as I love you for caring at this point it's wasting time calling Howard re: me. Let him work. Its over."
Still, Lange's fire to revisit the studio where he and Stern made radio magic burns on some level, as his account featured a retweet from user @LarryWyatt addressed to Stern's account: "@HowardStern we just want to know why @artiequitter can't be a guest on the show? Why is it so hard to answer????"