Carole Radziwill Calls LuAnn De Lesseps A 'Desperate Housewife' & Accuses Her Of Plotting To 'Bring Down' Bethenny Frankel On 'RHONY' Reunion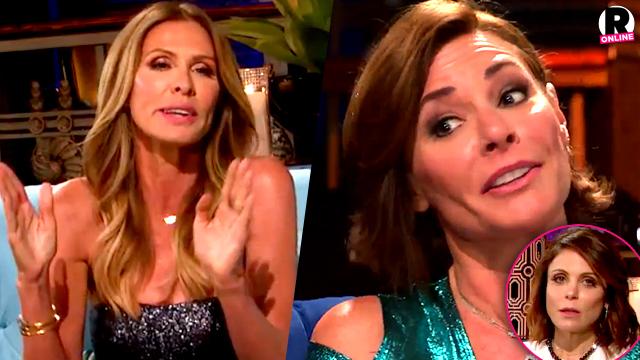 It was the battle of the Countess and the Princess on part one of The Real Housewives of New York reunion, as LuAnn de Lesseps continued to joust with Carole Radziwill for sleeping with her niece's ex-boyfriend.
One of the biggest battles of the season resumed when de Lesseps revealed that her niece was still "hooking up" with Adam Kenworthy when Radziwill began seeing him.
De Lesseps said of why Radziwill's actions were hurtful: "A one night stand is one thing, but saying that you're actually living with someone is another. She crossed the line going out with this young guy who is dating my niece."
Article continues below advertisement
Radziwill shot back, "He wasn't dating your niece. When I met Adam I didn't know that he dated Nicole. I actually thought LuAnn was interested in him!"
When the Countess called her co-star's behavior unacceptable, Radziwill fired, "You pick up men and you f**k them in bathrooms!"
Although de Lesseps refused to talk about the issue further, Radziwill added of why de Lesseps really fought with her, "This is all because she got desperate.
"Desperate housewives do desperate things!"
De Lesseps fired back, "You don't go to a woman's house and pick up people who work in her home -- you don't care what I think then you don't care about our friendship!"
Radziwill also found herself feuding with Sonja Morgan over her claims that she partied with John Kennedy Jr., who was her late husband Anthony Radziwill's cousin.
"For you to say that you partied with John John was not OK because he didn't party," Radziwill said of her late friend.
Article continues below advertisement
When Morgan stood by her claims that she partied with him, Radziwill told her to stop because he was her family.
That's when de Lesseps interrupted, "I'm glad you're concerned about family, Carole!"
Heather Thomson stood up her for friend by saying, "That's a low blow, LuAnn!"
When the Countess told Thomson to stop being Radziwill's guard dog, she said, "I have my own opinions, you're the f***ing bully!"
But Radziwill turned her attention back to Morgan, who called her claims regarding Kennedy "insensitive."
"John wasn't a good partier," Radziwill said. "He stayed close to his family, and he's no longer here so I don't want you talking about him."
Morgan responded, "I want to talk about it because it was a great time in my life. That's when people really knew how to party."
A shocked Bethenny Frankel asked, "Do you believe your own bulls**t?"
Article continues below advertisement
Watch the video right here on RadarOnline
Also on the episode, Radziwill revealed that de Lesseps was excited to hear of Frankel's return to the show, but not because she wanted to catch up with her former co-star!
"LuAnn made a toast to bringing you down," Radziwill told Frankel, as Thomson added, "They had axes to grind with you from left over past."
Even though Frankel confessed that she's "not harboring resentment" over the alleged toast, de Lesseps denied her involvement in the plan.
But de Lesseps wanting to take the Skinnygirl down was the least of Frankel's worries, as she revealed that she has been going through her divorce from Jason Hoppy for "over three years."
Radziwill said of the drama, "She calls her daughter twice a day. Lots of times her ex-husband won't answer the phone … she just wants to talk to her daughter. There are so many head games being played."
When host Andy Cohen asked what caused their marriage to crumble after almost three years together, Frankel blamed his desire to stay in the spotlight.
"Some people come in and they see the shiny objects and they grab at the shiny objects," she explained. "Then it's taken away and they want it to be taken away from you also."
Part 2 of The Real Housewives of New York reunion airs Tuesday at 9/8c on Bravo.