Orlando Bloom Has A 'Man Crush' On Howard Stern Following Jennifer Aniston & Justin Theroux's Hollywood Wedding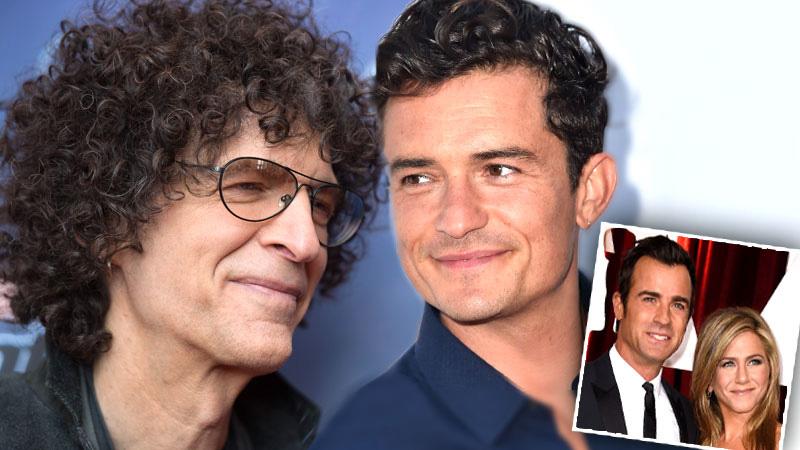 Orlando Bloom, who had a coveted invite to Jennifer Aniston and Justin Theroux's wedding last week, opened up about his "man crush" Howard Stern after the two bonded there.
The 38-year-old heartthrob recently shared his memories of the gala to reporters, while on the red carpet of the Los Angeles premiere of his latest flick, Digging for Fire.
After the radio icon went into an on-air rant this week about his friendly chat with the Pirates of the Caribbean star -- calling him "a nice guy" and "so handsome" -- Bloom was quick to return the gushing praise.
Article continues below advertisement
"I have a man crush on him," the popular actor said last week. "Have you seen him? He's the most handsome thing you've ever seen.
"I mean, he thinks I'm handsome, that's ridiculous. He's seeing a reflection of himself, that's what it is!"
The 61-year-old America's Got Talent judge -- who cut into pal Jimmy Kimmel's wedding dance two years ago -- pulled a similar schtick with Bloom, dancing with him in jest after Aniston and Theroux hit the floor for their first dance at the wedding party.
As RadarOnline.com previously reported, Stern and Bloom were among the ultra-exclusive guest list -- one that even some of her former Friends co-stars were left off of -- to attend the affair at Aniston's Bel Air Home.
Other famous faces present included Ellen DeGeneres, Chelsea Handler, and late night king Kimmel, who Bloom hailed as "great" in presiding over the wedding ceremony.
"I mean Jimmy's amazing, he pitched it so perfectly," Bloom said, calling Aniston and Theroux "a wonderful couple.
"I was really honored to be there and it was a great night."
Bloom's Digging for Fire opens in theaters Aug. 21.