Exclusive
Orlando Bloom And Justin Bieber's Club Fight Caught On Camera — WATCH The Video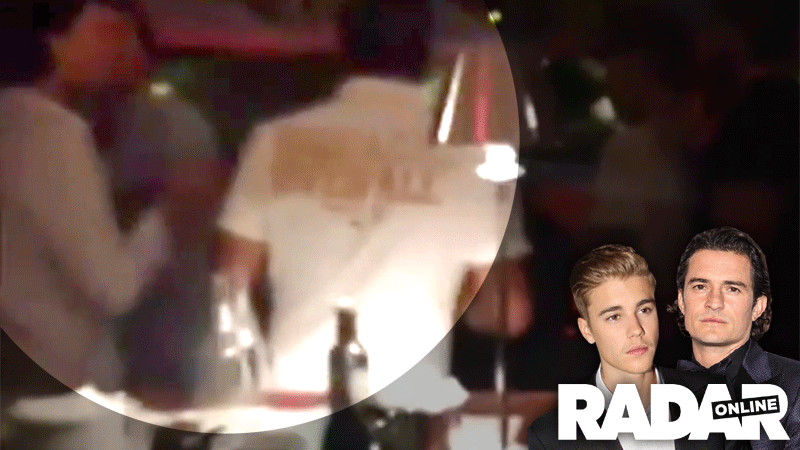 Orlando Bloom and Justin Bieber took a break from partying on Ibiza to throw down – and not on the dance floor, but in each other's faces! Now, RadarOnline.com has the blow-by-blow videos that caught the encounter.
In a new video obtained by Radar, Bloom can be seen walking past Bieber in a packed crowd during a celeb-filled night at Cipriani on Wednesday and taking a swipe at the pint-sized pop star. But the attempt was thwarted as the "Baby" singer's friend blocked the punch.
Article continues below advertisement
In another video, previously published by Radar, the Lord of the Rings actor can seen calmly walking away in an open area of the club on the Spanish island as what sounds like Bieber can be heard heckling him.
As his friend looks like he's trying to talk some sense into the 20-year-old, Bloom walks back undeterred and bodyguards start to swarm.
In another scene, a hot-headed Bieber has to be held back.
So why the face-off?
By all accounts, it seems to be a woman. Bloom's ex-wife Miranda Kerr was rumored to have hooked up with the Canadian crooner after he performed at the Victoria's Secret fashion show in 2012. The only rub is that the supermodel was still married to Bloom. She denied it, but Bieber added fuel to the fire when he allegedly posted a sexy swimsuit pic of Kerr just after their island run-in, which has since been taken down.
For his part, Bloom has been spotted partying with Bieber flame Selena Gomez recently.
In the end, Bloom's jab wasn't all for nothing. It apparently made the club crowd roar with applause.
WATCH the videos below and let us know what you think in the comments!
youtube