Exclusive
Inside Bieber's Weed Bunker On Wheels — 'Justin Rolled His Own Burrito-Sized Joints' Says Pal, Smoked & Drank With Selena Gomez Before Hitting The Theme Park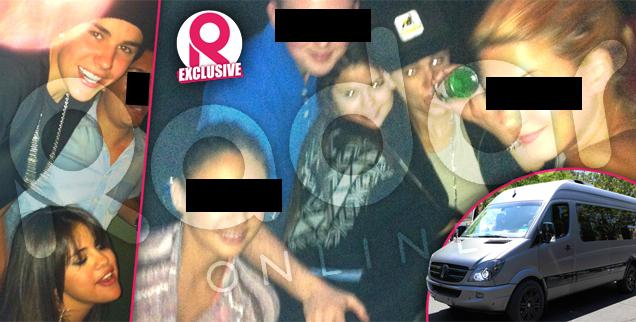 Article continues below advertisement
"They hotboxed and drank Heinekens from the fridge Justin keeps in the van," the source told RadarOnline.com.
"There was no bong or anything, just Justin rolling his own burrito-sized joints. I mean, f**king huge."
The photos obtained exclusively by RadarOnline.com feature Bieber and Gomez, 21, with pals including Secret Life of the American Teenager actress Francia Raisa and one of the "Come & Get It" singer's backup dancers, Charity Baroni.
"Everyone smoked, including Selena," the source said.
"We smoked at least six joints and were high as a kite by the time we rolled into Knotts."
As RadarOnline.com exclusively reported in Feb., Gomez entered into a secret rehab stint the month before after realizing what a bad influence on-again-off-again boyfriend, Bieber, had been on her.
"Selena came to understand just what a bad influence Justin had been on her life," said one source. "Their relationship left her broken-hearted."
Article continues below advertisement
"I don't know whether Justin pushed her to drug use, but amongst their close knit group of friends, smoking was common place," said another insider.
"Justin and Selena would smoke marijuana together regularly."
And while a rep for Gomez confirmed the treatment to RadarOnline.com — "Selena voluntarily spent time at Meadows but not for substance abuse," a spokesperson revealed — a source close to Gomez has revealed that in the months before her stint in rehab, she had been "partying very hard."
Are you surprised to see Justin and Selena partying in his van? Sound off in the comments below…