Exclusive
Screaming Fights, 'Bottles Crashing' & 'Derogatory' Names — Inside Beyonce & Jay Z's Marriage — PLUS The Truth About The Cheating Rumors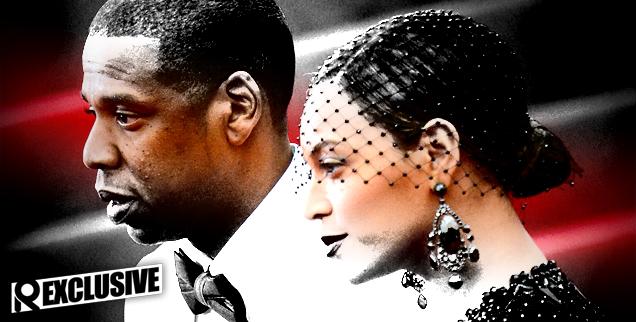 Article continues below advertisement
Though Solange was the one who snapped in the security camera footage that was leaked to the media yesterday, Jay Z allegedly unleashed his own dark side during a disturbing incident back in 2013, according to a new report. According to BlindGossip.com, an NFL employee spotted the rapper "barking instructions" at Beyonce in the green room before her notorious Super Bowl performance.
"He became angry that she wasn't giving him her full attention, and he grabbed the mobile device out of her hands," the site claims. "He discovered that she was texting another man and started going through all her texts. His voice started out low, and he was swearing, 'You mother f*ing b*tch!.'"
Before long, the site claims, Beyonce "jumped up and got in his face and started yelling and swearing right back … She tried to grab the phone back from him, but he pushed her away and continued going through the phone and screaming at her, pushing her away, berating her, and started calling her every derogatory name for a woman in the book."
Onlookers called the scene "horrific," but the site claims that Beyonce and Jay Z's team seemed totally used to such behavior.
Article continues below advertisement
Indeed, just a few months later, the couple were front and center for another fight at Diddy's VMA after-party last August. When a fight erupted between the party's host and rapper J. Cole, "mayhem" broke out, and B and Jay did not back down.
"Beyonce was yelling…" a party guest told the New York Daily News at the time. "Jay Z was separating people … bottles were crashing everywhere and everyone was screaming.
Violent fights are not the only cloud of scandal surrounding the couple. Despite their public PDA sessions, rumors of cheating continue to hound them. Less than six months ago, in November, Belgian beauty queen Claudia Scheelen told reporters about her flirtation with the star at a local nightclub.
"I was with my girlfriends and he sent over … this huge bottle of Ace of Spades champagne," she said. "…He told me, 'I've been all over the world, but the girls in Antwerp are the prettiest girls.'"
Article continues below advertisement
"Don't you dare disrespect Beyonce like that!" she told a radio host in Chicago when confronted with the rumors.
"That's just straight up disrespect," she said. "You can't even go there. That's like not even a question."
By all accounts, the couple are happy together despite the drama: As RadarOnline.com reported, they were even recently spotted dropping $6,000 on gold-plated sex toys during a couple's trip to Brooklyn sex shop Babeland.