Exclusive
I'll Have What She's Having! Kopykat Kim Kardashian Requests Exact Same Procedures As Beyoncé During Awkward Run-In At The Dermatologist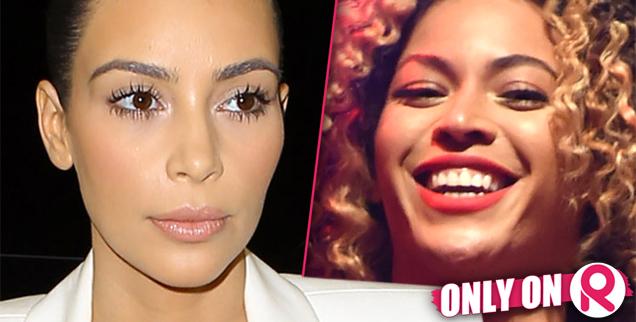 Forget Marilyn Monroe. Kim Kardashian wants to be the next Beyoncé Knowles! After copying the Queen B's style during a recent night out in New York, Kardashian took her emulation of Knowles one slightly creepy step further during an awkward run-in at the dermatologist last week -- by requesting that the doctor give her the exact same procedures as the "Drunk In Love" singer!
When Kardashian, 33, ran into Knowles, 32, at Dr. Harold Lancer's Beverly Hills office on April 11, "Kim wanted to make sure that she had the exact same procedures that Beyoncé had," a source told RadarOnline.com. "She requested Botox and fillers, which were the same treatments Beyoncé got."
Article continues below advertisement
But rather than bonding over Botox, Jay Z's wife and Kanye West's fiancée had a seriously awkward run-in, as RadarOnline.com has reported -- even though Kardashian didn't seem to notice!
Kardashian "seemed so excited to see Beyoncé and was really eagerly going over to her," a source told RadarOnline.com. "But Beyoncé looked like she wanted nothing to do with Kim and was really trying to stay away from her. Kim was basically fawning all over her ... and Beyoncé looked like she could have cared less!"