Close Call! Kim, Khloe & Kylie Survive Terrifying Car Wreck Caught On Camera –– 'We All Could Have Died!'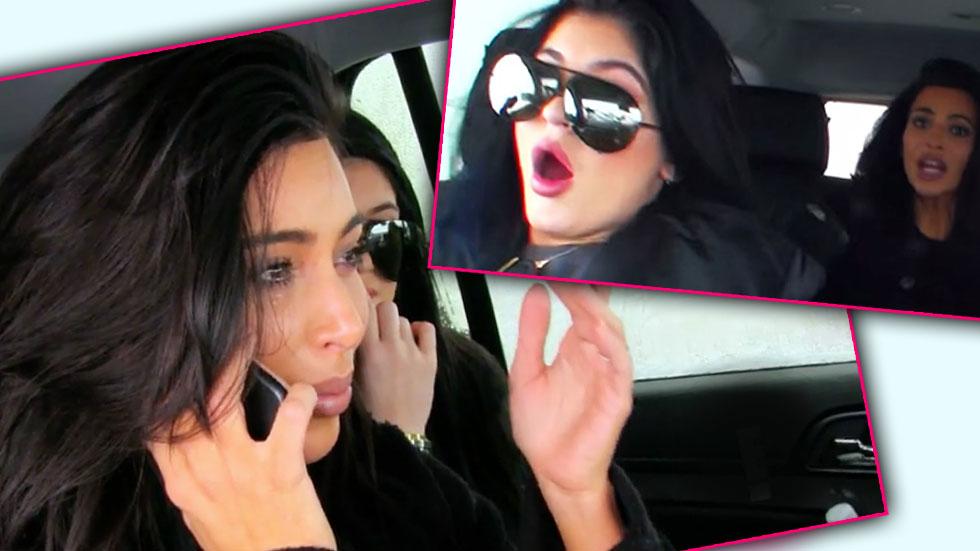 The charmed Kardashian sisters may seem to have it all, but during the family's vacation in Montana, they almost lost everything.
On the mid-season finale of Keeping Up With the Kardashians, Khloe, Kim, Kylie and baby North get into a terrifying car accident while maneuvering through the winding, snowy roads of Big Sky.
After a passing truck dumps snow on the roof of their SUV, Khloe, 30, loses control on black ice, causing the car to careen into oncoming traffic before landing in a ditch.
Article continues below advertisement
"It's not my fault, it's not my fault!" she screamed as the car spins out of control.
Fortunately, everyone is okay. After the car comes to a stop, Khloe and Kylie, 17, stay calm, but Kim bursts into tears.
"I thought I was going to die!" the 34-year-old sobs on the phone with husband Kanye West, 37.
Watch the video on RadarOnline.com
During her confessional, Khloe gets deep.
"It makes you put everything into perspective," she says about the crash. "Life, family, friends. What's important to you. Things can change in a blink of an eye. Our family has learned that tons of times."
"We had angels surrounding us today."
Later, in a conversation with mom Kris, 59, Kim gains some perspective.
"Khloe literally saved our lives -- I didn't have a seatbelt on -- we all could have died!" she tells the Momager, who ditched the getaway to meet daughter Kendall, 19, in Paris.
In addition to the scary crash, the episode also centers on Kim's desperate struggle to create a sibling for North, who turns 2 in June.
Article continues below advertisement
After attempts at IVF fail, she undergoes a biopsy so fertility doctors can figure out why she can't conceive again.
Frustrated, Kim turns to an unlikely source for advice: psychic John Edward.
Unfortunately, the former Crossing Over With John Edward host doesn't see a baby bump in her future.
"Not seeing you conceiving. It's just a hard time," he says in a tense phone call, before suggesting that Kim visualize her child instead of obsessing about the pregnancy.
"My heart just kinda sinks," she says. "I'm looking for a positive answer to push me along."
But something must have worked, because in the preview for the second half of the E! series' latest season, Kim tells Khloe she's pregnant!
Meanwhile, upon returning to Los Angeles, Khloe and Kylie visit papa Bruce, 65, who is about to undergo facial feminization surgery.
"He'll always be my father figure," Khloe says about her stepfather's highly publicized gender transition.
Article continues below advertisement
During the segment in Bruce's Malibu home, the camera pans to his closet, which features red, black and even polka dot dresses.
Though the episode tackles some tough topics, there is a light moment when Kim tells a story during a Montana card game about a wild night in with the Jackson family.
When the reality star was 15, she says, she played Pictionary with the entire family, including Janet. But she messed up the game by confusing the word "angle" with "angel."
Fortunately, her faux pas was forgiven. Perhaps "angles" really are looking out for Hollywood's most famous family!