'Who Is This Woman & Why Do I Care?': Rob Kardashian's SHOCKING Reaction To Caitlyn Jenner's Vanity Fair Cover –– Plus 4 New Developments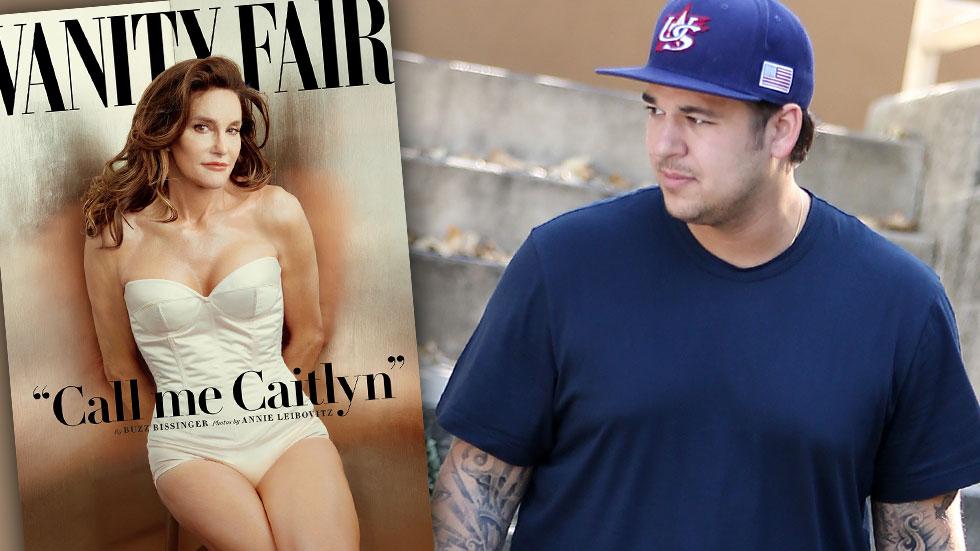 Reactions from far and wide continued to pour in supporting Caitlyn Jenner, after her historic appearance on the Vanity Fair cover was unveiled Monday.
Mistaken Identity
Reclusive Rob Kardashian didn't know about Caitlyn's emergence until his sister Kim forwarded him a copy of the Vanity Fair cover, which left him confused, Kim told Access Hollywood Live Monday evening. Rob looked at the magazine cover and asked his sister, "Why are you sending me this? Who is this woman and why do I care?" Kim said that while her four sisters knew about the upcoming reveal, Rob "had no idea," but was charmed when learning the identity of the cover girl. "I was like, Rob, that's Bruce -- that's Caitlyn. And he was like, "Oh my god, she's beautiful."' The reclusive Kardashian brother then called Caitlin, where the two engaged in a discussion Kim summed up as "a love fest."
Article continues below advertisement
From The White House
President Barack Obama was among those who hailed her emergence, tweeting, "It takes courage to share your story," in response to Caityln's first tweet on her fast-growing account. In his next tweet, the commander-in-chief wrote, "Your story matters in the fight for LGBT rights," before providing a link for his followers to share their personal tales, like Caitlyn's.
Caitlyn's 88-year-old mother Esther Jenner beamed with bride at Caitlyn's blossoming, telling Access Hollywood, "She's beautiful!" Esther, whose past relationship with her child has been examined in-depth on Keeping Up With The Kardashians, confirmed that she got an early start on the rest of the world in being introduced to Caitlyn. "I was there last week, well actually, I got home a week and a half ago," she told the show. "And I met Caitlyn. She is … so much more at ease." Esther admitted that after 65 years, there's still one adjustment that she's working on: "I still have to call him Bruce. His father and I named him that ... it's going to be a struggle for me to get used to the change, but happily so. I'm very happy for him -- or her!"
Article continues below advertisement
Watch: Why have Brody & Brandon's Refused To Be On 'I am Cait'?