Bruce Jenner In A Pickle Between Wife Kris -- And His 87-Year-Old Mother -- On KUTWK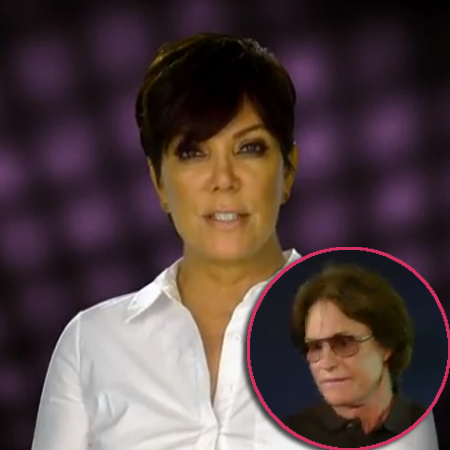 Kris Jenner had a tension-filled meeting with Bruce Jenner's mother Esther, a woman she admitted couldn't stand her, on Sunday night's Keeping Up with the Kardashians.
This season, Kris has already feuded with her stepson, Brody Jenner, and fought with her husband over a home golf putting green.
And in the latest episode, the momager met her worst nightmare -- the mother-in-law she's barely spoken to during her 23-year marriage to Bruce!
Article continues below advertisement
When Bruce tried to convince Kris to travel with him to Esther's Idaho home for the Jenner matriarch's 87th birthday, viewers learned of the strained relationship between the in-laws.
"Your mom doesn't really like me that much," Kris whined to Bruce about Esther, who was lonely after her third husband, Frank, recently died at age 95. Bruce replied, "You've had no relationship with her for the last 15, 18 years."
Kris, who then revealed she'd only seen Esther four times since they'd been married, fumed to Bruce, "She has yelled at me -- I stay away from people like that."
In a confessional, Kris then revealed she'd had a close relationship with her first husband Robert Kardashian's parents--but never hit it off with Bruce's mom.
Bruce countered, "She doesn't know you."
Kris complained that the last time Esther came to their home, "I made her dinner, I made her brownies, I made her pasta, my favorite soup. I put flowers in her room. I made her feel like a princess!"
Article continues below advertisement
Still, Kris moaned, "She doesn't even like me. Why would I go visit somebody who can't stand me?"
Bruce sighed, "Because she's 87-years-old. She's not going to be around that much longer. Just have her see you as you are because you're a great person."
Later, instead of going to Idaho on his own, Bruce arranged to have Esther fly to Los Angeles to celebrate her birthday with himself, Kris, and the Jenner side of the family.
But Kris dragged her feet about the visit the whole way, and confided her misgivings to her friend, Rhonda.
Kris recalled to Rhonda over lunch that she hadn't seen Esther in ten years--and, in all the time she'd been married to Bruce, "I never heard from her very much."
And after having Esther's granddaughters, Kendall and Kylie, Kris claimed Esther was the invisible grandma.
"She missed 18 years of her grandchildren growing up," she said.
Article continues below advertisement
"That's f***ed up," Kris moaned to her pal, getting choked up.
In another scene, at the Jenner beach house where Bruce has been spending a lot of time, Khloe Kardashian had a heart-to-heart with her stepdad.
"It's very weird that you live out here," Khloe told him.
Then Bruce confided about his trouble with Kris, "I try to push that we go see my mother and she says, 'No way.'"
Khloe said in a confessional segment about Esther, "She's never really been that friendly."
"I'm trying to be really firm with this," Bruce told Khloe. "She won't budge."
"I think she should do that for you," Khloe advised. "Stand your ground and keep asking her."
Later, after Bruce decided to have Esther travel west, Kris told him, "I'm not sure about my schedule."
She even implied that Bruce wasn't such a doting son, either!
"In 23 years, you've mentioned her a dozen times," Kris said.
After Bruce picked Esther up at the airport, however, mother and son talked candidly about the family tension.
Article continues below advertisement
Bruce told her, "Kris has always felt distant from you."
"I know. I can feel it," Esther said.
Bruce asked his mom to take Kris aside and "tell her, 'I love you.' Make everybody feel better."
"All of a sudden, my mouth is so dry," she told her son.
Back at the Jenner homestead, Bruce's son, Brandon, and his wife, Leah, arrived with a cake.
Kris told them about Kim and baby daddy Kanye West moving in with her. "Kim is going to redo the tiles," Kris said.
When Esther arrived, Leah hugged her as Kris ate a plate of food. Kris awkwardly explained to Esther that pregnant Kim had changed their mansion's guest room into a nursery for the baby.
The tension eased somewhat, however after Kris gave her mother-in-law an Irish whiskey!
"I don't think I ever want to get married again," Esther told the group. The salty matriarch also made everyone laugh by joking that if she did find another elderly man he "couldn't get it up."
Article continues below advertisement
After getting her birthday cake, Esther blew out the candles and made a wish -- that she would hear from her grandchildren "once in awhile"!
Kris said, "I'm so glad you're here," but had to rush off because she had promised to take Kim to the doctor the next day.
Bruce, worried there was unfinished business, brought the two women in his life together again for a real talk.
When they were alone, Esther admitted to Kris, "We haven't been too close in any way. I'm so sorry for that."
"It was very complicated I think," Kris ventured. "Just a lot of personalities in the mix and stuff going on."
Esther said, "I have felt like I should stay away, stay out of the picture, and I have. But it's not right."
Then she said that Bruce's third marriage, to Kris, had been "the longest marriage he has had. You've been good for him and I think he's been good for you."
In a confessional, Kris exulted about Esther's tribute, "Wow, I've waited 23 years for this. Better late than never!"
Article continues below advertisement
The two women hugged and later, after his mom had gone home, a happy Bruce was pleased with his wife.
He confided the healing reunion had made Esther happy, and she told him he was her favorite child.
"Kim should know how you feel," Kris said.
And speaking of the Kardashian family queen, in another storyline on Sunday's KUWTK episode, pregnant Kim, fearing she wasn't cool anymore, tried to adopt Kylie's style and was stalking her tumblr.
Later, Kim told clothing designers who work on Kardashian family lines about Kylie's edgy style, and asked sister Khloe what she could do to get on Kylie's blog.
Kim even told Khloe that Kanye asked what album packaging Kylie would like, because she was the the be-all, end-all of cool.
But Kylie, 15, later annoyed off her more famous sister by borrowing her expensive designer clothes.
"She snuck into my closet and stole my clothes. I'm livid," Kim told her friend Jonathan Cheban.
Article continues below advertisement
Kim https://radaronline.com/exclusives/2013/08/kim-kardashian-kanye-west-take-north-west-grandfather-funeral/
made Kylie give back her outfits!
And in another plot on Sunday's show, Scott Disick, Rob Kardashian, and the girls finally wound up their ongoing Todd Kraines prank. As RadarOnline.com previously reported, Scott has been calling Kris for months, pretending to be an old Kardashian family friend named Kraines.
The girls urged Scott to pretend to be Todd Kraines again.
But Scott sighed, "It's become a job for me. The 'Lord' does not like working."
The girls later decided to call the real Todd Kraines and end the prank by having him come to the Jenner home and reveal the prank to Kris, which he did.
The kids confessed all to Kris after Todd came through the door.
"We got nothing better to do," Scott laughed to Kris.
"I don't know whether to kiss them or kill them," Kris said.