Family In Crisis! Kim Kardashian A No Show For Kylie Jenner's Sweet 16 Party; Khloé Arrives Without Hubby Lamar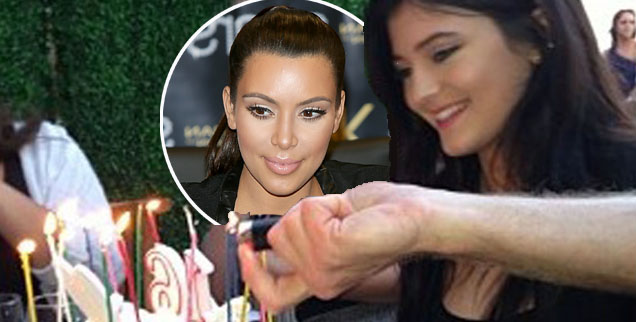 Camera-shy Kim Kardashian skipped her little sister, Kylie Jenner's Sweet 16 birthday dinner Saturday night.
She and her baby daddy, Kanye West, stayed home with daughter North, while the rest of her reality TV family tried to put their growing number of scandals aside to celebrate its youngest member's big day at Nobu Malibu.
Kourtney Kardashian and HER baby daddy, Scott Disick , put their paternity suit scandal aside -- a model is claiming he's the real dad of her son. The couple showed up with little Mason, and their daughter, Penelope.
Article continues below advertisement
Mom and dad Kris Jenner and Bruce Jenner arrived and left the bash separately, with Bruce looking particularly glum except when he was spotted playing with Penelope.
Khloe Kardashian was accompanied by two bodyguards. Husband Lamar Odom was nowhere to be seen, not surprising now that he's been accused of cheating on his wife with at least two women.
But back to the birthday girl.
Kendall Jenner woke her little sister up, screaming "Happy birthday!" Saturday morning, and Kim did send best wishes via Twitter.
"Happy Birthday to my baby sis @kyliejenner !!!! Can't believe your 16! I love you so much!" Kim wrote.
As the party wound down, Kylie blew out the candles on her cake, and received gifts from -- can you believe it? -- DASH!
That's what we call Keeping Up with the Kardashians.