'I Can't Trust You!': LuAnn De Lesseps Accuses Ramona Singer Of Bashing Dorinda Medley's Boyfriend On 'RHONY'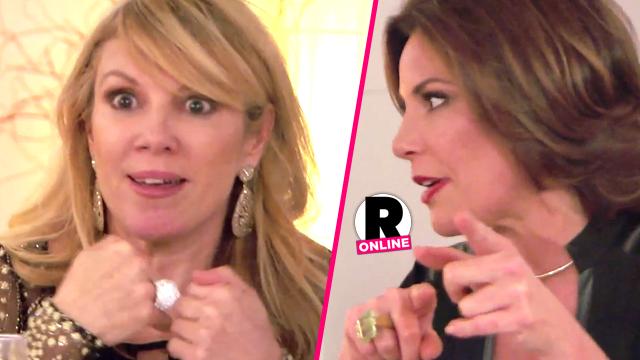 On the Real Housewives of New York Tuesday, Ramona Singer fought with LuAnn de Lesseps over comments made about Dorinda Medley's boyfriend John Mahdessian.
Throughout the season, the women praised Singer for her improved attitude following her split from cheating husband Mario Singer. But when the ladies gathered to celebrate Medley's 50th birthday, they discovered that the old Singer had returned!
Heather Thomson told Singer, "You've changed. Even the three years I've known you, there has been a metamorphosis."
Article continues below advertisement
But instead of accepting her compliment, Singer blamed their fights in the past on Thomson!
"Dorinda always saw me the way I was," Singer explained. "You do have this evasive wall up. Dorinda is very welcoming. So when she's welcoming, I kind of bring down my wall so I can be myself."
When Thomson said that Singer was the one who had her wall up, the newly-single reality star responded, "I don't think so; now you're being aggressive."
In an attempt to avoid fighting any further, Thomson told Singer to "chill out."
"What I am trying to say to you is, we did not get off on the right foot together," Thomson said. "I have seen a lot of change and growth in you as a person."
Although Singer tried to avoid fighting any further, de Lesseps brought up how Singer told Medley what she said about her boyfriend John Mahdessian, even though Singer spoke badly of him too.
Article continues below advertisement
De Lesseps explained in her confessional, "We had a conversation, Ramona and I, about things in particular that we don't like about John. But this conversation was meant to be between us. Of course, it circled back to Dorinda and she called me."
Singer told de Lesseps, "You said something and I'm not going to repeat it and I told her and she's upset."
De Lesseps said in her confessional, "Of course Ramona conveniently left herself out of the story. Ramona is quick to place the blame always on someone else."
"Why would you share something very negative about her boyfriend to me?" Singer asked the Countess. "Why did you open your f**king mouth?"
"I'm afraid that I can't trust you," de Lesseps replied. "I began to trust you and then it slaps me in the face."
But Medley didn't fall for Singer's trick, as she said in her confessional, "Ramona was just using LuAnn as the scapegoat."
When Singer whispered to Mahdessian, "I don't know what LuAnn is trying to pull. I know you make Dorinda happy and that's all I care about," de Lesseps said, "I'm going to stick Ramona's face in the caviar right now!"
Article continues below advertisement
Watch the video on RadarOnline.com:
On last week's episode, Bethenny Frankel reconnected with her stepfather John Parisella and opened up about her dark past. When she sat down with her therapist to discuss seeing Parisella for the first time in 25 years, she revealed more about her youth.
"When you walk in, you see someone who slit their wrists. What do you think it was like?" she said of her mother's attempted suicide. "He would take the phone and drag her down the hall and beat her with the phone."
As Frankel cried over being unable to erase her past, her therapist said, "What happened affected your ability to feel and your ability to trust. That impacts how you love everybody, including your daughter."
The Skinnygirl mogul ended the session with, "You have to acknowledge who you are and where you came from and why you feel hurt in order to open yourself up to new people. I don't know how much I'm going to do that, but I'm open to it."
Article continues below advertisement
Also on the episode, Sonja Morgan celebrated her Latino Show Magazine cover and finally proved to the ladies that she's working on a collection.
Frankel said, "She was wearing a dress from her collection and it was beautiful. It seemed totally legit."
Although Thomson explained, "one dress does not a collection make" and offended Morgan by asking if it will be sold in Kmart, Kristen Taekman was supportive of her friend.
"I want to apologize," Taekman said for doubting the collection. "After last night, just seeing your ad in the magazine, seeing you wearing your garment, meeting the people who are making it. I think it's amazing what you've accomplished."
Morgan replied, "I feel relieved that she apologized because she didn't understand me. I feel like she gets me now that it takes a lot of work to do this."
The Real Housewives of New York airs Tuesdays at 9/8c on Bravo.