Exclusive
Old Feuds Die Hard? 'RHONY' Costars Ramona Singer & Bethenny Frankel Caught Fighting In Public At Fashion Week Event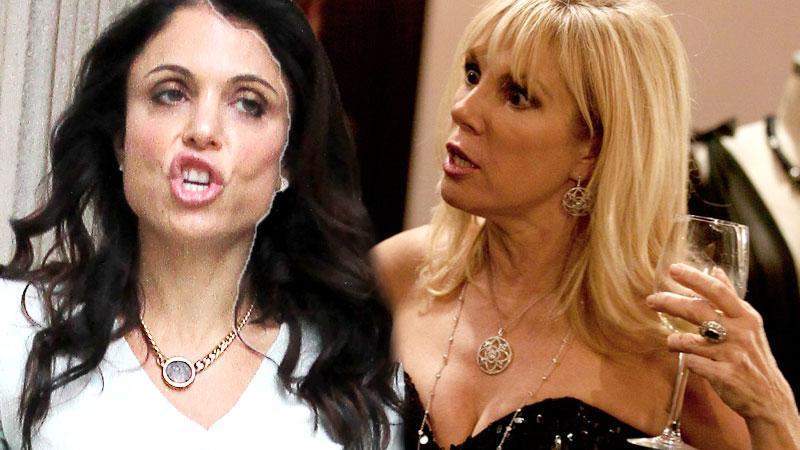 Bethenny Frankel is making an epic return to the Real Housewives of New York City and is already smack dab in the middle of the drama for the upcoming Season 7. During a recent fashion week event, the failed talk show host was seen in the midst of a heated verbal battle with her costar, Ramona Singer.
"Ramona and Bethenny were fighting openly in public at the event," an eyewitness told Radar. "They didn't seem to care who was watching."
Article continues below advertisement
Despite the classy surroundings, they did little to hide their distaste for each other.
"You could hear their voices even though the room was crowded and loud," the source said. "They were waving their hands around and up in each other's faces."
"The fight lasted for a good 20 minutes," the source revealed. "Everyone was watching and whispering and wondering what was going on."
But Singer wasn't the only one that seemed on bad terms with the returning housewife at the event.
"Bethenny's other costars — Kristen Taekman, Heather Thomson, Carole Radziwill, Countess LuAnn de Lesseps and rumored new girl Dorinda Medley — didn't even say a word to Frankel at the party," the source said. "LuAnn was sitting next to her and got dragged into the fight for a brief second, but turned her head quickly to get out of it. The others? They seemed to be deliberately ignoring what was going on — and Frankel's presence altogether. Only a few times did they look at the two women fighting before burying their attention somewhere else."
Article continues below advertisement
As for Frankel, "Bethenny was doing her best to avoid them too," the source says. "She didn't seem to want to be near them at all and was doing everything in her power to stay away and distract herself."
Of course, cameras captured all of the drama.
"There was a crew there filming for the show," the source says. "And the women were all mic'd throughout the whole event. The fight was definitely caught on camera."
Another insider reveals that the Singer-Frankel drama is going to be part of the upcoming season.
"It's a storyline," the insider confirmed.