'I Hire And Fire Everybody!': 'RHOA's' Nene Leakes Would Get Rid Of Kenya Moore & Claudia Jordan If She Could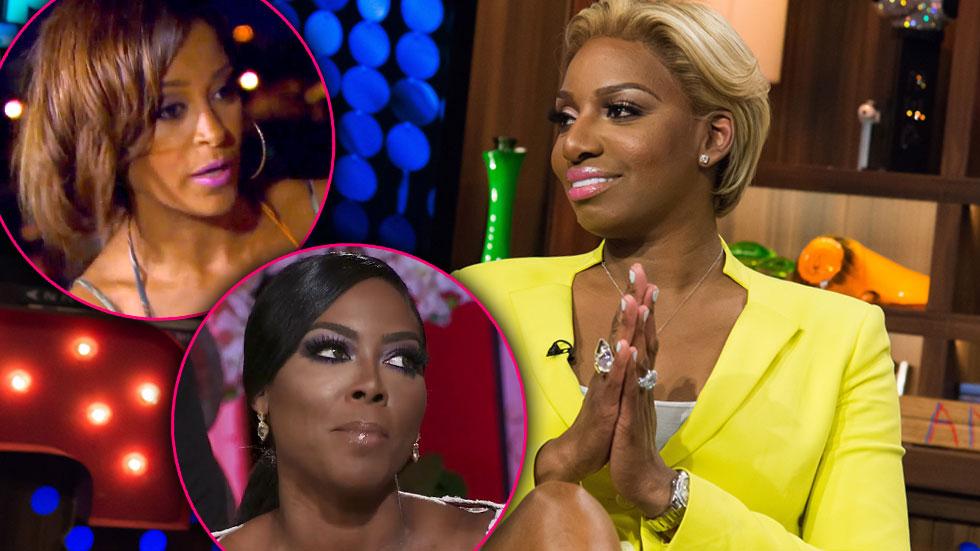 Real Housewives of Atlanta star NeNe Leakes said she'd fire the show's single ladies -- Kenya Moore and Claudia Jordan -- if she had control over casting decisions.
NeNe, appearing on Watch What Happens Live on Sunday, fielded a question from a caller who asked her who she'd want off the program.
The reality star first answered with a touch of sarcasm, joking about the power co-stars and fans perceive she has behind-the-scenes.
Article continues below advertisement
"I'm like the show runner, I guess -- I hire and fire everybody -- I have been given that position for some reason," NeNe said. "As soon as I say something, everybody's like, 'Oh she's trying to get me fired.' Apparently they're not secure in their job spaces. The moment I say a name, I get all this flak about 'she's trying to get me fired.'"
Watch the video on RadarOnline.com
With that in mind, the show's biggest name brilliantly answered with a reason that happened to take the axe to two of her most hated rivals, Moore and Jordan, using their ring-free status against them.
"Who do I think should go? I've already said it before, I think we have too many girls that are single around the show," Leakes said. "I think we should have more married women around the show. Granted, it's very fun to have a single woman on the show, but the purpose of having a single woman on the show is one that is dating."
Without mentioning them by name, NeNe said that while Claudia and Kenya "think they can catch" any man they want, viewers of the show "don't see anybody that is single on our show dating and looking for love.
Article continues below advertisement
"Not one girl on this show is single and looking for love -- we don't see nobody dating on our show, not one -- they ain't been on a date that we can see."
NeNe continued, "As a married woman we could be like, 'Oh my God girl, so what happened on your date last night?' We don't need to do any of that because none of them are dating."
No pal of NeNe's, Kenya caught even more flak when the topic of the ladies' charity promises for Detroit public schools came up, with NeNe ridiculing the very public way Kenya boasted about her contribution.
Watch the video on RadarOnline.com
"You're doing something from the goodness of your heart and want to donate to charity, you donate the right way: Who writes a check and posts it on social media and tries to say 'I'm donating to charity?'
"People donate to charity in private, in confidence, nobody does that bullsh*t!"