Ruthless Review On 'Setting Star' Mariah Carey & Las Vegas Show Debut, Her Fall From Fame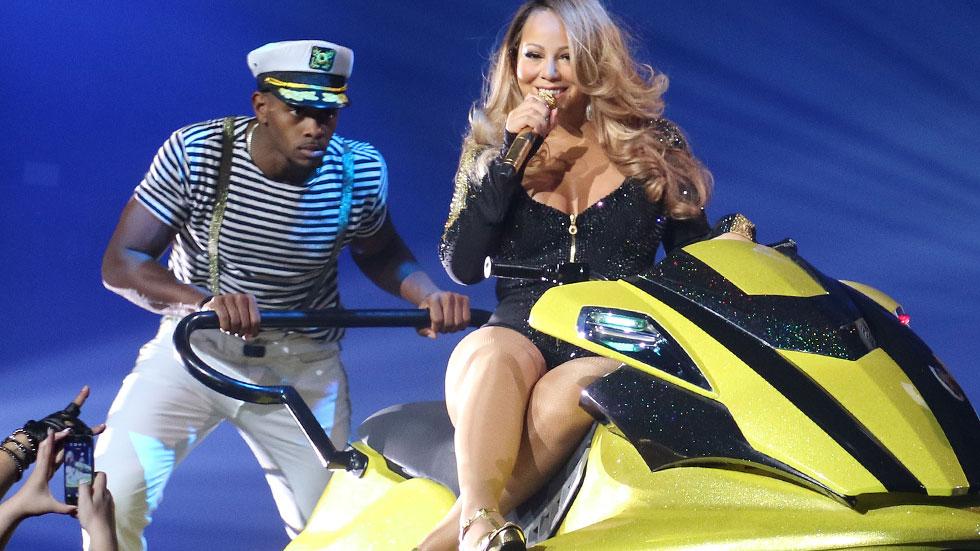 Mariah Carey can't seem to catch a break!
In a review of Carey's latest performance endeavor in Las Vegas, The New York Times played hardball, calling the famed diva's vocal styling's "tentative" and "inconsistent" compared to her once superhuman pipes.
Her Vegas residency kicked off at Caesar's Palace on Wednesday, showcasing 18 of Carey's number one hits over the last three decades, all of which – the Times gently reminds readers – occurred prior to 2007.
Article continues below advertisement
Despite following in the sin city footsteps of other "setting stars" like Celine Dion and Britney Spears, Carey held her head high and braced herself for an attempt at a comeback:
"I'm doing my best to be a diva this evening," she joked in a recent interview regarding the residency.
Her best didn't prove to be good enough for the New York Times, however, which continued to paint a less than flattering portrayal of Carey's performance:
"She sang parts of several songs an octave lower than the recordings," Jon Caramanica wrote in the article. "Often she appeared to be holding back as if to build up to a big moment, only to shy away from it. As she's aged, her voice has gotten huskier, but sometimes the rasp felt like a glitch, not a goal."
To add insult to injury, Carey suffered a horrible wardrobe malfunction during the show, in which she gave the audience a peek at her pink panties as she crouched down on stage.
Do you think Mariah Carey is over the hill? Let us know in the comments below!