'Worse Than Glitter': Fans RIP Mariah Carey After Cringeworthy Christmas Concert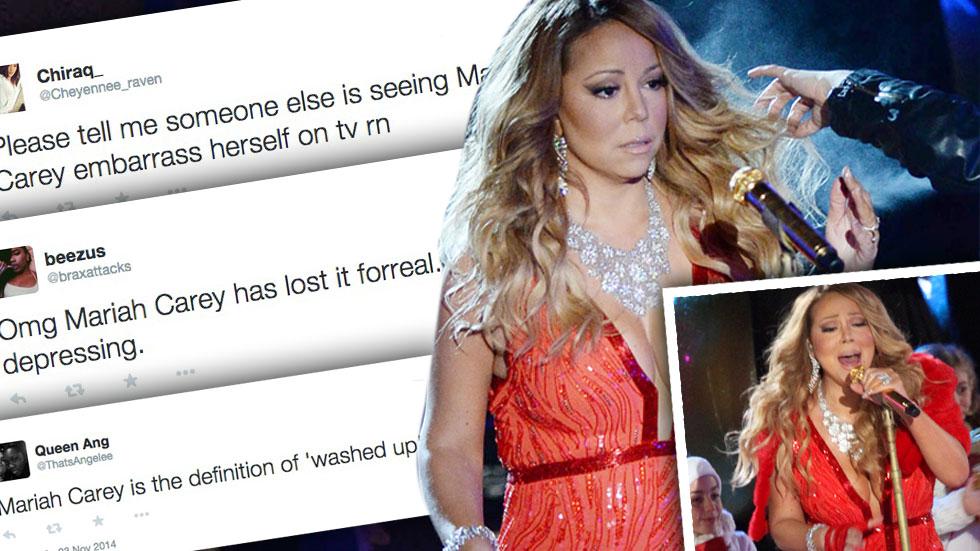 Depressing. Washed-Up. As bad as Glitter.
Those were just a few descriptions fans used regarding Mariah Carey's off-key rendition of "All I Want for Christmas Is You" from her outing in an NBC Christmas special from New York City's Rockefeller Center Wednesday.
The mother-of-two, 44, delivered a cringeworthy performance of her signature song after showing up three hours late to the event's filming Tuesday, taking the option of a pre-taped performance out of the equation.
Article continues below advertisement
She apologized to her fans on Twitter about the tardiness, writing, "Last night's situation was beyond my control. I apologize to all that showed up, you know that I would never want to disappoint you."
NBC producers, who sent her home Tuesday, eventually let her onto Wednesday's special to awful results, as her voice was severely lacking in harmony and range.
Watch the video on RadarOnline.com
youtube=https://www.youtube.com/watch?v=FNtrS3JdlSc&w=551&h=340
Among the sentiments from disappointed watchers via Twitter: "Mariah Carey is the definition of 'washed up;'" "Please tell me someone else is seeing Mariah Carey embarrass herself on TV;" and "Omg Mariah Carey has lost it for real. This is depressing."
Some took a humorous tack to the falling star's outing, as one snarky tweeter wrote, "Mariah Carey sang 'All I Want For Christmas' last night in Rockefeller Center but instead of you, she asked for a vocal coach."
Another asked, "Anyone else think that @MariahCarey performance was as shiny and blinding as Glitter. Ouch!"
Readers, do you think Mariah's best days have passed her by? Or was this just an off-night for the pop legend? Discuss in comments!