Exclusive
'WWHL's Biggest Diva! Mariah Carey Enforced 'Do Not Mention' List, Arrived Two Hours Late To Hit Bravo Show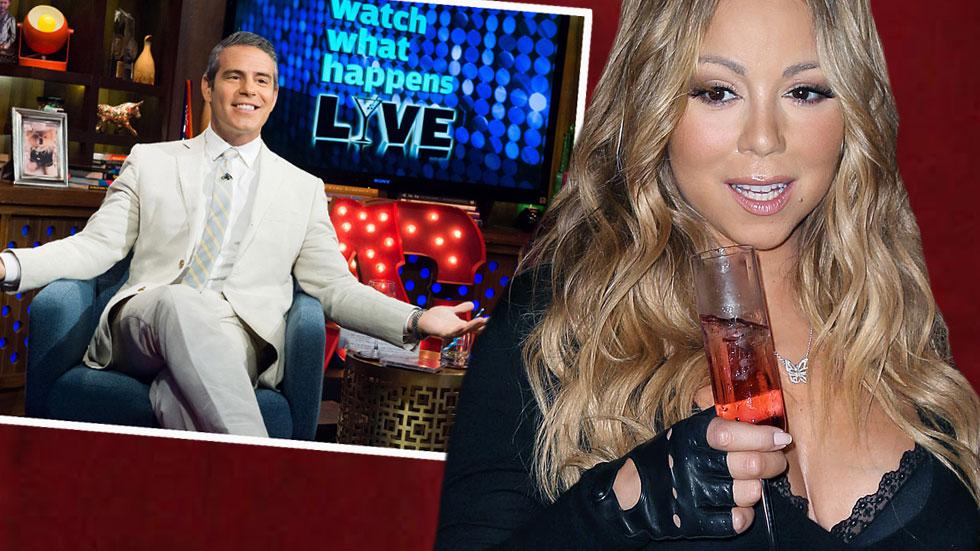 Article continues below advertisement
"Would that not be a great way to end the year? Am I not the luckiest person?" he writes in his book The Andy Cohen Diaries: A Deep Look At A Shallow Year.
Turns out he wasn't so lucky.
Before the Big Day, he dished to new pal Katy Perry about his guest's strange requests.
"I alluded to the challenges associated with some bookings," he cryptically writes. "What I didn't mention was the 'Do Not Mention' list, which basically boils down to not discussing any other lady singer."
Though the newly single singer was expected to arrive for the taping at 6 pm, "Mariah's people pushed the taping a half an hour three or four times," he continues. "She finally was in the chair around 8 pm. (The audience had to have been extra-hammered.)"
When her entourage finally showed up, "I went over the 'Do Not Mention' list with her people," he writes.
Mariah then asked that her host move his traditional spot so she could showcase her "better side."
"I surrendered my seat to her," he says. "It was weird doing the show from the left!"
Later in the book, he says he spilled all about the visit to friend Lady Gaga, claiming "I couldn't resist telling her about Mariah's lighting requirements."
Despite the high-maintenance appearance, Cohen insists his experience with the "elusive chanteuse" was positive.
"She is clearly a handful but she knows her sh*t and I enjoyed her," he writes. "I want her to come back."