Joan Rivers Fondly Remembered By Andy Cohen, With Montage Of Her Hilarious 'Watch What Happens Live' Appearances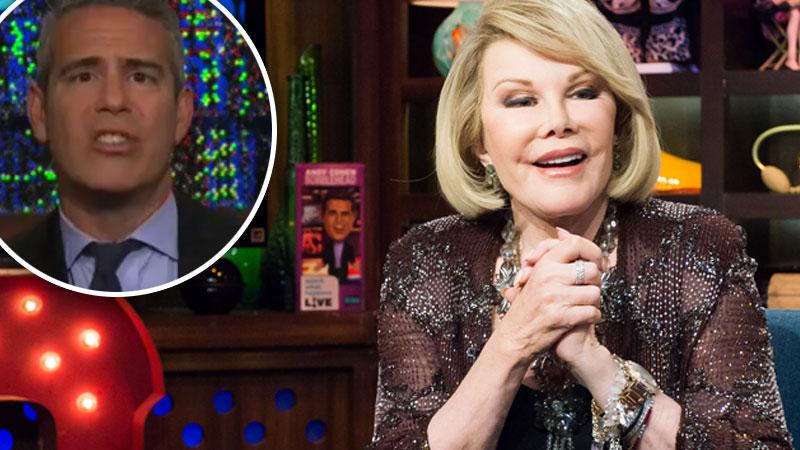 The late Joan Rivers was a frequent visitor to Andy Cohen's clubhouse, and on Sunday's Watch What Happens Live, the ringmaster warmly remembered the comedienne, who died last week at 81.
Rivers had last appeared on the show on July 29, and she was on the top of her comedy game as usual, with her usual rapid fire smattering of jokes on celebrities and pop culture.
"I almost got goosebumps when Joan walked into the clubhouse," a subdued Cohen told viewers. "When you see how vibrant and alive she was on that last appearance, it makes her passing all the more tragic.
Article continues below advertisement
"She was one of my favorite people, one of the best comics in history, we called her a friend, and we love Joan Rivers."
Among the trademark moments in Joan's highlight reel:
Cohen asked Rivers, "What was the best sex you've had in Hollywood?" to which she responded, "Abraham Lincoln!"
VIDEOS: A Rewind Of Joan Rivers' 10 Funniest Video Clips
Her greatest triumph and greatest regret?
"My greatest trump was that I slept with Robert Mitchum — and my greatest regret is that he didn't call me back!" she joked.
At one point Andy told the comedy icon, "What can I say: I love you, I love you, I love you."
Watch the video on RadarOnline.com:
The somber montage ended with Joan explaining the importance of comedy in the world.
"Life is so difficult; it's so hard," she said. "If we don't laugh at anything, then we're out of our minds."
Watch What Happens Live airs on Bravo Sundays thru Thursday at 11/10c.