Mariah Carey Has Major Wardrobe Malfunction & Swears On Live TV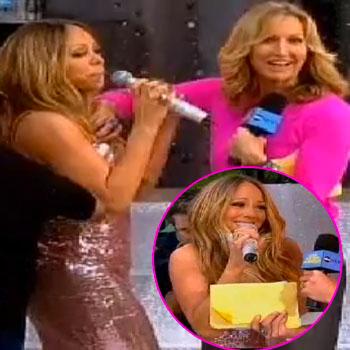 Article continues below advertisement
Cool as a cucumber, the American Idol judge described what happened, saying: "It popped, darling," and asked Lara "What should we call this? The Central Park saga?"
Lara clearly recognized that the wardrobe malfunction was going to become big news and said: "I dare say this is a TV moment."
Mariah held the broken dress up over her breasts to avoid a nip slip and Lara held her notes in front of her chest just in case, but she stayed covered up.
After a commercial break Mariah was back in a pink Monique Lhuillier dress and chatted and chatted with Josh Elliott as she made her way back up on stage, saying: "I've been working out. I've been trying to do the best I can to stay in shape. And these stress-fests, they help. But I need to catch my breath! Please talk."
youtube
MORE ON:
Wardrobe Malfunction
That's when Mimi dropped the profanity, running up the stairs she was caught swearing.
"Oh, sh*t," Mariah blurted out.
"You didn't hear that."
Check out the video of Mariah's racy GMA appearance on RadarOnline.com.