Stern Response To Shocking Suit –– John Kerry & The State Dept. Demand Fugitives Randy & Evi Quaid Return To U.S. & Face Legal Issues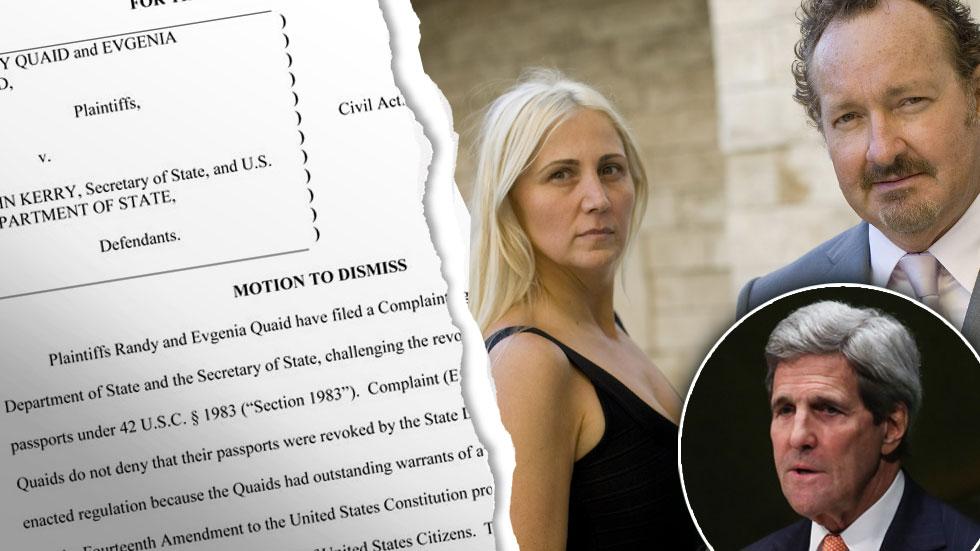 Secretary of State John Kerry and the State Department struck back at Randy and Evi Quaid's lawsuit against them in a recent court filing.
The Quaids, late last year, filed the suit to get back the passports the U.S. government confiscated from them amid their growing slate of outstanding legal issues -- among those, the alleged vandalism of their former home, and a felony warrant in California linked to a delinquent bill to an innkeeper.
Article continues below advertisement
The enigmatic couple has remained in Canada since 2010, considered fugitives on the other side of the border.
The Independence Day star and his wife, in the 2014 suit, claimed that Kerry was not in a position to revoke their passports as they're legally U.S. citizens.
In its response, Kerry and the Department of State said that the Kingpin actor and his wife are considered criminals on the run, and that they're misguided in their argument about losing their citizenship.
"The Quaids' passports were undisputedly revoked due to outstanding felony warrants that are valid on their face -- and not due to a finding of non-citizenship," the State Department said in court docs. Taking away "their passports, therefore, does not implicate the Quaids' citizenship status in any way."
The National Lampoon's Vacation star and his wife are not blocked from applying for "a limited passport to allow their return to the United States, or re-apply for passports once they have addressed the criminal charges pending against them," they added.
The Golden Globe winner and his wife will NOT be granted their passports back in the meantime, the State Department said in docs, as it's expected they'll continue to travel and evade the law, based on their actions the past few years.
The lawsuit should be dismissed, according to the State Department, and the Brokeback Mountain star and his wife should return to the states on a limited passport to rectify their outstanding legal issues.