Desperate For Baby #2: Kim Learns From Fertility Doc If She Can Get Pregnant After Scary Uterus Surgery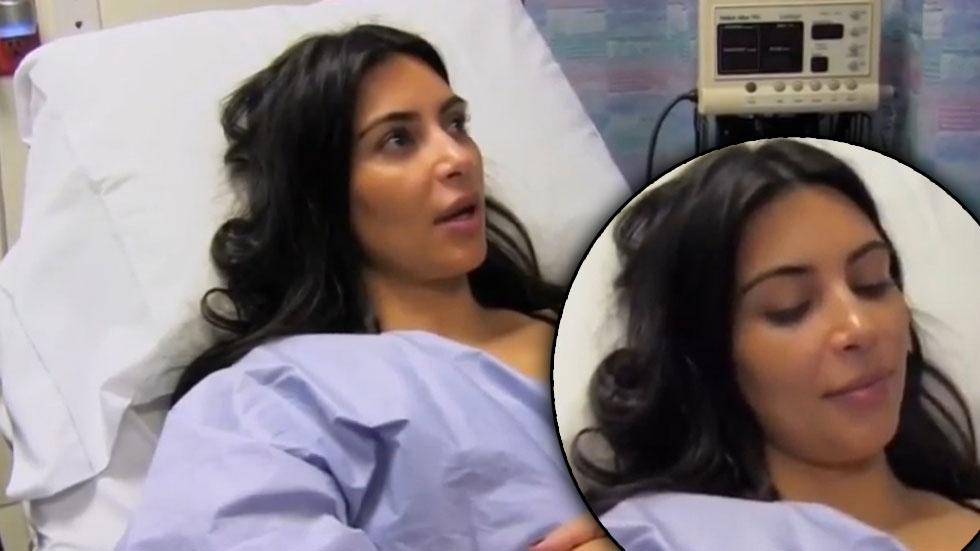 The aftermath of Kim Kardashian's scary surgery to clean up her uterus was shown on Sunday night's episode of Keeping Up with the Kardashians.
Last week, the series revealed Kim's medical crisis, as her placenta had grown onto her uterus, devastating the star, who's hoping to have her second child with husband Kanye West.
Fertility expert Dr. Andy Huang assured Kim he'd do whatever he could to make her uterus as perfect as possible after she had suffered the placenta problem while giving birth to daughter North.
Article continues below advertisement
While Kim was so worried she even contemplated having to use a surrogate mother, Sunday's episode showed viewers the surgery was successful, keeping alive Kim's dream of bearing a second child.
Dr. Huang showed Kris Jenner X-ray pictures of her daughter's uterus, saying, "I cleaned all that out. That might be old placenta, and then at the end of it you have a nice clear cavity."
Kris noted, "With this clean, she should be able to get pregnant on her own."
The doc replied that he was optimistic, adding, "I'm going to put her on some hormones and that will get her to her next cycle."
But Kim later pressed him, "Do you think I will have a hard time getting pregnant?"
Dr. Huang said, "I hope not."
Relieved Kim told the cameras, "The fact that the doctor is saying that this went well is amazing. There is nothing more on this earth that I would want than to be pregnant again."
Article continues below advertisement
Watch the video on RadarOnline.com
Also on the episode, Kris startled her ex Bruce Jenner by mentioning her celebrity crush: Keanu Reeves.
The cougar, 59, (who dates Corey Gamble, 34) told Bruce over the phone that her son Rob Kardashian had designed some Valentine's Day socks.
"Do you think it would be wrong if I send a pair of socks that said, 'My boyfriend' to Keanu Reeves?" Kris asked Bruce.
When there was dead silence on the other end, Kris said, "Never mind -- you're probably the wrong person to ask."
Bruce, who will soon publicly reveal his transition from male-to-female, said, "I wish you best of luck with that."
(It isn't the first time Kris has gushed about The Matrix star: When asked by the magazine Love about the celebrity hunk she would consider taking on a date, Kris said, "Keanu Reeves is really cute.")
Sunday night's episode also showed how Khloe Kardashian and best friend Malika Haqq clashed over Khloe's on-again, off-again boyfriend French Montana.
MORE ON:
Keeping Up With the Kardashians
Article continues below advertisement
Haqq said it was awkward after Khloe had broken up with Montana -- and sent Haqq to give him back his stuff.
She was shocked when Khloe didn't mind running into Montana in Las Vegas. Then, as RadarOnline.com previously reported, Haqq and the rapper wound up in a tense confrontation about the reality star.
To repair their friendship, Khloe and Haqq took a road trip to Solvang, Calif. and talked things out.
Haqq pointed out it was wrong that she was caught between Khloe and Montana.
"You're making me deal with that person," Malika complained. "I shouldn't have to deal with that. He's not someone you should even be around."
Khloe -- whose divorce from Lamar Odom is mysteriously on hold, -- told the cameras, "I'm going to do things my way … and I don't believe in cutting people out of my life.
"I still like to keep relationships intact, and she should respect that."
Article continues below advertisement
Malika concluded Khloe should have handled the Montana situation differently, but ultimately said, "This is not the first breakup I've been around for with Khloe and I will be around for the rest of them and I'll support her no matter what she does."
Sunday's episode also explored the Momager's attempts to get close to her youngest daughter Kylie, who wasn't speaking to her.
Kris sighed to Bruce, "I have rules and she gets angry."
The matriarch forced Kylie to take a trip to La Jolla, Calif. with her to visit her mother, M.J. Shannon.
On the way there, Kris told Kylie, that the 17-year-old had been offered a Pretty Little Liars appearance and pushed her to do more on social media because "everyone loves your style, they're obsessed with you."
Kylie groaned in confessional that her mom was always on her case.
Later, Kylie told her grandma she wanted to have her own house on her 18th birthday.
M.J. pointed out Kylie was acting like Kris when she was younger and then Kris recalled she'd met first husband Robert Kardashian at age 17.
Kris and her youngest daughter wound up having fun at an amusement park, with Kylie concluding she should appreciate time with her mom before leaving the nest.
Check out what else the Kardashians are up to this week: