Exclusive
'No Mommy, You Hit Daddy': Michael Lohan Says Toddler Son Witnessed Violent Incident Leading To Kate Major's Battery Arrest, Blames Ex Dina For Incident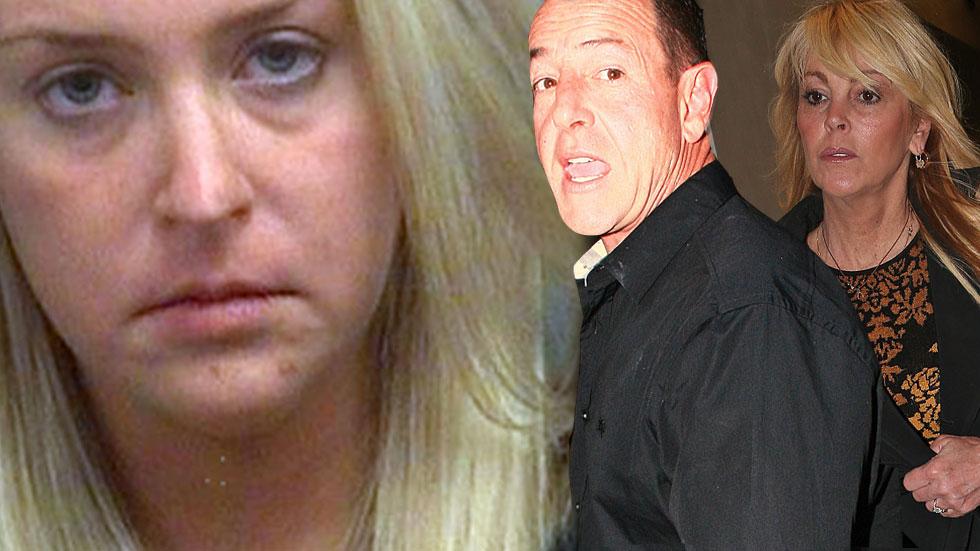 Michael Lohan filled in RadarOnline.com about wife Kate Major's arrest on battery charges Thursday, saying that it all stems from ex-wife Dina's legal moves against him.
Major was taken into custody by Boca Raton police after authorities said she drunkenly attacked Michael, fiercely scratched down his back, and falsely accused him of grabbing her throat, trying to create marks in her neck region by scratching, according to online reports. She's currently in custody at Palm Beach County Jail, and has a hearing slated for Friday morning.
Article continues below advertisement
Michael, 54, explained the chain of events to RadarOnline.com exclusively, admitting that "Kate has been drinking again for two months," and he's been pushing her to return to rehab.
On Thursday, Michael told RadarOnline.com that Kate "went down to the restaurant and had a few glasses of wine," which was evident to him upon her return.
Michael said he "grabbed" their baby son Logan "and ran outside" -- at which point their 2-year-old son Landon followed him.
Sadly, Landon was witness to the violence Thursday, Michael said, noting that Major made an attempt in vain to put words in the toddler's mouth.
"When the police were coming, she tried to tell my son Landon to say that I hit her, but he turned around and said, 'No mommy, you hit daddy.'"
"All I did was try to protect my kids and run away from her -- I never touched her."
Major's relapse and violent episode -- not her first battery arrest -- is a direct result of Dina's ongoing legal moves against Michael, the show biz dad said, referencing his ex-wife's efforts to collect child support payments from him.
Article continues below advertisement
"At the end of the day, this is all because of what Dina is doing in court -- Dina goes to the press and lies," Michael told RadarOnline.com exclusively. "It's been stressing Kate out for a while: like any other alcoholic or addict, she doesn't know how to deal with it other than by drinking."
"Last night she went over the edge, and went after me."
Michael didn't fully let Major, 32, off the hook, saying that his volatile spouse "does this all the time" -- accusing him of putting his hands on her "when she's the one who beats on me."
Michael said he was juggling issues with Dina as well early Friday, as she denied their 18-year-old son Cody $200, so he sent the money to his son directly (as opposed to paying child support agencies and receiving credit to his balance).
"I really know how to pick them, don't I?" he said. "But I have to say, the best thing about them are my children."