Kate Major Shows Off Her Michael Lohan Baby Bump In Skimpy Bikini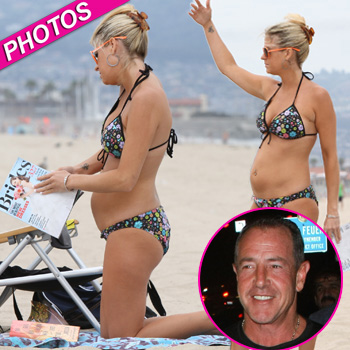 Congratulations to the happy couple!
There's no denying it now, Kate Major and Michael Lohan are expecting a baby together and RadarOnline.com has the photos of her growing baby bump.
Kate, on-again-off-again girlfriend of Lindsay Lohan's dad, is in her second trimester and she hit the beach in Los Angeles on Wednesday to flaunt her pregnancy curves.
As a father-of-four already, 52-year-old Michael will undoubtably be sharing his parenting pearls of wisdom with his new baby.
Article continues below advertisement
Lindsay is reportedly shocked that her father is going to have a baby with her former friend Kate, and Dina Lohan is apparently laughing off the news, saying that she has moved on from Michael.
Kate and Michael have been battling each other in the legal system for months and until recently even had restraining orders against each other!
In April, Lohan exclusively told RadarOnline.com that he feared Kate was purposely trying to get pregnant by him.
According to Michael, he was in the hospital and Kate showed up unannounced — and it was there that he says they got intimate.
"I was in the hospital with kidney stones and Kate just barged in!" Michael said. "She's been taking ovulation tests trying to get pregnant from me."
Guess it worked!
RELATED STORIES:
Snooki Shows Off Pregnant Glow With Makeup-Free Face