Melissa Rivers Keeps Poker Face When Asked What Lies Ahead For 'Fashion Police'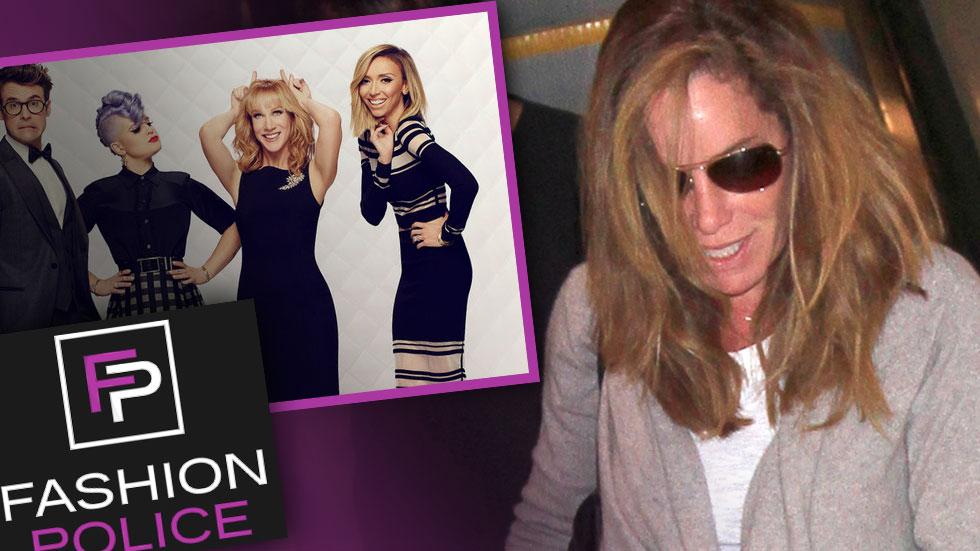 Fashion Police executive producer Melissa Rivers stayed mum as she was peppered with questions about the future of the E! show, which is reeling from a number of factors.
Rivers, 47, was with her love, Hollywood agent Mark Rousso, as she made her way through LAX Sunday after weeks of controversy swirling around the show, beginning with Giuliana Rancic's ill-fated remark about Zendaya, which triggered a firestorm that saw Kathy Griffin and Kelly Osbourne depart in short order.
Article continues below advertisement
But the daughter of late comedy legend Joan Rivers seemed to be in a pleasant mood despite the recent headaches, smiling as a photographer prodded her about her next move for the show.
"I wish I could answer you, but ...," Melissa said, smiling, adding that she had to "go fight marathon traffic," referring to the annual Los Angeles marathon.
When the photographer suggested she herself could save the show by appearing on camera -- injecting the magic of the "Rivers blood" back into the cast -- Melissa said, "That's very sweet of you, I appreciate the sentiment."
Watch the video on RadarOnline.com
As RadarOnline.com previously reported, higher-ups at E! have been pushing to cancel the program in the wake of the recent events, dating back to Joan Rivers' death late last summer.
"Kathy and Kelly both felt like Joan would not have wanted the show to go on like this," a source told Radar. "A lot of people think E! should just let Joan's chair be her chair forever and pull the plug on the show while they are ahead."