Exclusive
'Pull The Plug!' E! Insiders Want 'Fashion Police' Cancelled Following Embarrassing Scandal & Kelly Osbourne, Kathy Griffin Exits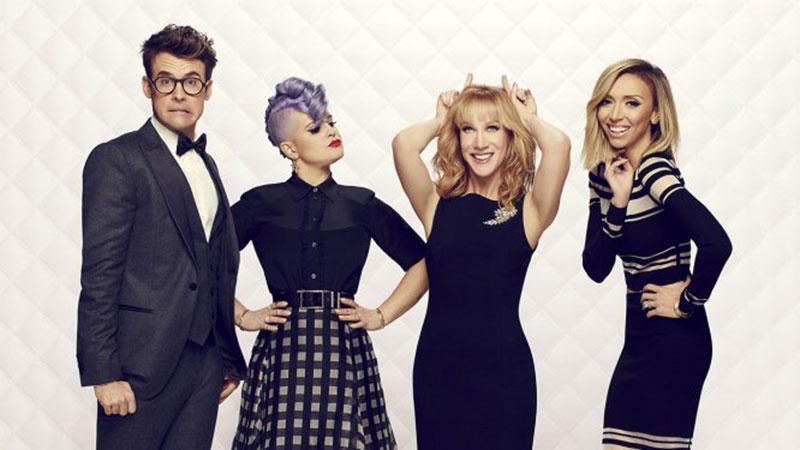 Fashion Police is a "sinking ship" — and it's not just Kelly Osbourne and Kathy Griffin who want off! RadarOnline.com has learned that network insiders are pushing execs to cancel the show after weeks of humiliating scandal.
Griffin's departure on March 13 was just the latest bombshell to rock the show, which also lost co-host Osbourne on February 27. And although E! announced yesterday that the show will be back on the air March 30, a network insider tells RadarOnline.com exclusively, "Everyone just feels like Fashion Police is a sinking-ship and Giuliana Rancic is the anchor!"
Article continues below advertisement
"It is not a coincidence that all of the women who work with Giuliana quit," the well-connected source adds.
The drama all began when super skinny co-host Rancic made controversial remarks towards Zendaya Coleman on the post-Oscar Awards special, joking that "her hair smelled like patchouli oil…. or weed." Osbourne and Griffin quit soon after, and the insider claims that Rancic is to blame.
"Kelly did have her issues with Kathy, just as she did with Joan," the source says. "But at the end of the day they are almost like family. They were friends long before the show because Kathy is close to the entire Osbourne family. They were friends during the show and they will be friends long after."
Indeed, as RadarOnline.com reported, Osbourne praised Griffin's decision to leave, by taking to her Twitter account to share a photo of the two ladies touching tongues, along with a caption that read, "I could not be more proud of you @kathygriffin you have my love and support always!"
Now, the insider says, they're not the only ones pushing for E! to take the show off the air.
"Kathy and Kelly both felt like Joan would not have wanted the show to go on like this," the source tells RadarOnline.com, referring to the late Joan Rivers, who passed away in September from complications during a routine medical procedure. "A lot of people think E! should just let Joan's chair be her chair forever and pull the plug on the show while they are ahead."
Do you think that E! should cancel 'Fashion Police?' Let us know in the comments below.